Would you like to bring a little bit of comfort and home-like entertainment to the faraway wilderness? Perhaps, you want to entertain your kids when you are on a camping tour. In that case, you will find my review of the best projectors for camping helpful. In this article, I will detail some of the most suitable devices for camping activities.
Our pick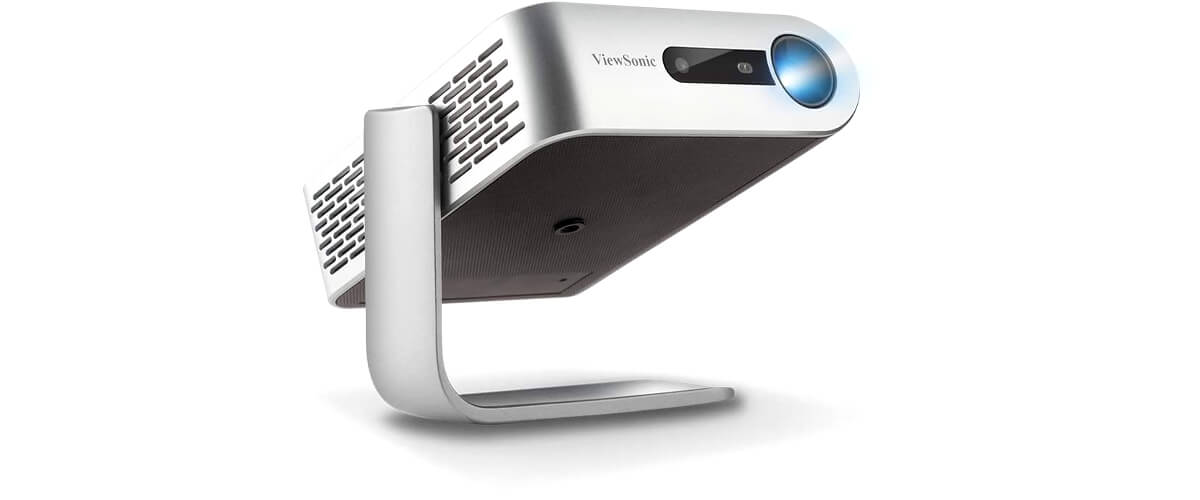 ViewSonic M1+
Best projector for camping
The ViewSonic M1+ is an ultra-portable WVGA LED projector that provides convenient entertainment in nearly any room or outdoors. An integrated smart stand provides a simple 360-degree setup while doubling as a lens cover.
Read the full review
.
Projector for camping comparison table
Name
Display technology
Resolution, px
Brightness, lumens
Contrast
Review
ViewSonic M1+

best overall

DLP
854×480
250
120000:1
Review
LG PF50KA
DLP
1920×1080
1440
100000:1
Review
FANGOR F506
DLP
1920×1080
5000
10000:1
Review
How to choose the best projector for camping?
Dimensions and weight
You will carry a lot of stuff with you, won't you? So, the last thing you want to be loaded with is a heavy projector. Therefore, a projector for camping should be compact and lightweight – so that you can easily put it into your backpack. Whether it's hiking or a car trip to some distant wild places, the projector should fit any situation.
Power source
It would be nice if the projector had a battery that allowed a few hours of autonomous work. In this case, you should not worry about finding a power source, even in the wild. Besides, such devices can work from the power bank, extending the battery's capabilities.
But a battery-powered projector is not a prerequisite, as there are plenty of ways to power the device. For instance, if you have a camper van or a power station, you will have no issues powering the projector. Also, as you stay at the campsite, you will have access to outlets.
Interfaces options
Of course, the more connectivity options the projector has, the better. But camping projectors may offer a limited number of outputs for the sake of portability. I would recommend looking at devices that offer wireless and wired connection options. Consider the availability of USB and HDMI ports. Bluetooth and Wi-Fi are handy for wire-free connection, which is fundamentally important and convenient for outdoor use.
Best projector for camping reviews
Being an improved version of M1, ViewSonic M1+ has great features capable of bringing your movie-watching experience to a whole new level. This compact unit will deliver multimedia entertainment wherever you go. Whether you set up a home theater or consider arranging a movie night outdoors, this little fellow is suitable for these purposes. So, what's so great about this projector? I will cover this in my ViewSonic M1+ review.
Build quality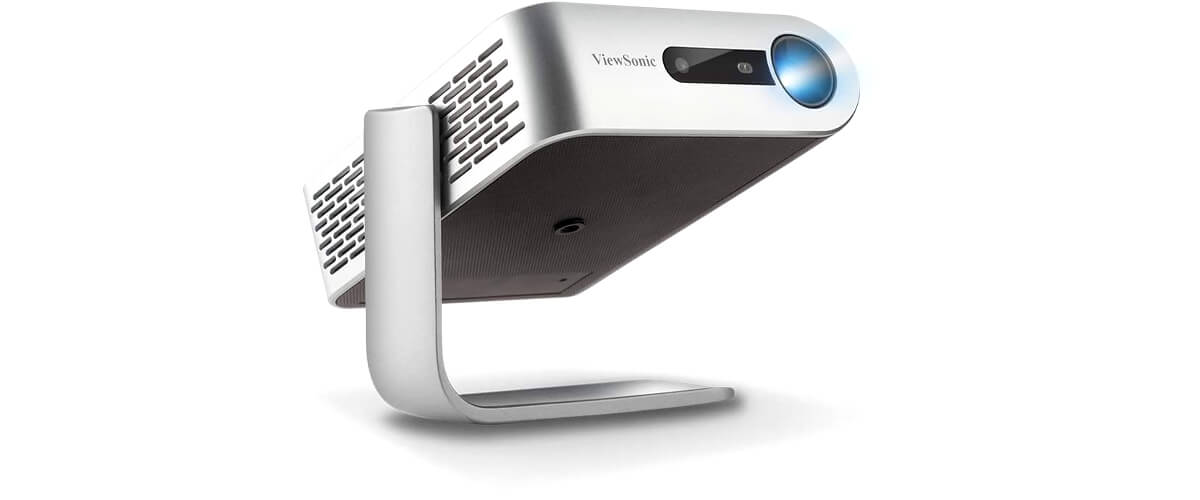 ViewSonic M1+ looks nothing like other projectors. Its unique feature is the availability of a smart stand, which enables a simple 360-degree setup. This way, you can set the projector at the desired angle for a sharp, neatly positioned image. The stand also covers the lens when it is closed.
The projector, along with the adjustment stand, is truly compact. These two components measure 5.9 x 4.9 x 1.5 inches and weigh 1.54 lbs.
Connectivity options are versatile in ViewSonic M1+. You can use an HDMI 1.4 port for hooking A/V sources. There are also USB-C and USB-A ports as well as an audio 3.5 mm output. Bluetooth speakers and Wi-FI connectivity options are also available in this model. All the ports are hidden under the cover, which is great for a portable device.
Specs and features
Let's take a closer look at ViewSonic M1+ specifications and see what it is good for.
So, the native resolution of M1+ is 854 x 480p, but it can replicate anything from VGA (640 x 480) to FullHD (1920 x 1080). Apparently, the resolution is on the lower side. Yet, for a battery-powered projector at this price, that's not something you should be disappointed with. What may give this device an upper hand is that it can throw a 100-inch image from a relatively small distance. So, it's a great unit for small home theater setups.
As for brightness, you can get 250 lumens derived from a built-in LED light source. Again, that's more than expected for a projector of this size. That is why it's better to plan your multimedia viewing sessions closer to the evening when the ambient light is minimal. In addition, the light source is going to last long - nearly 30,000 hours in normal mode.
The battery life of this projector is higher than average. It will last for around 6 hours, depending on the energy mode. Also, if you require a more prolonged operation, you can use a power bank to charge the projector's battery.
ViewSonic M1+ offers three modes: Cinema, Music, and User. You can adjust the settings according to your visual and audio preferences in the User mode.
This compact device comes with two Harman Kardon speakers built inside. They are surprisingly loud, with balanced mids and strong bass. However, highs get a bit cranky at higher volumes. But there is always an option for extending your audio experience by pairing the projector with Bluetooth speakers.
What I also like about ViewSonic M1+ is that it has a mobile app that turns my phone into a remote control. For this, you've got to ensure that both the projector and your phone are on the same network. The same app also offers a collection of streaming services to cater to your entertainment needs. Or you can mirror the phone screen for big-screen entertainment.
Projection and picture quality
The image quality is good for a portable device with an 854 x 480p resolution. It delivers an acceptable amount of detail for casual viewing, but not more. I admitted a lack of texture, though the colors are vivid. Instead of depicting light plays and rendering the range of hues, the projector just paints these subtitles in broad strokes, which may be a harsh issue for sophisticated movie aficionados. Once again, I want to draw your attention to the fact that M1+ will also struggle in brighter conditions, so it is more acceptable for dark rooms.
Installation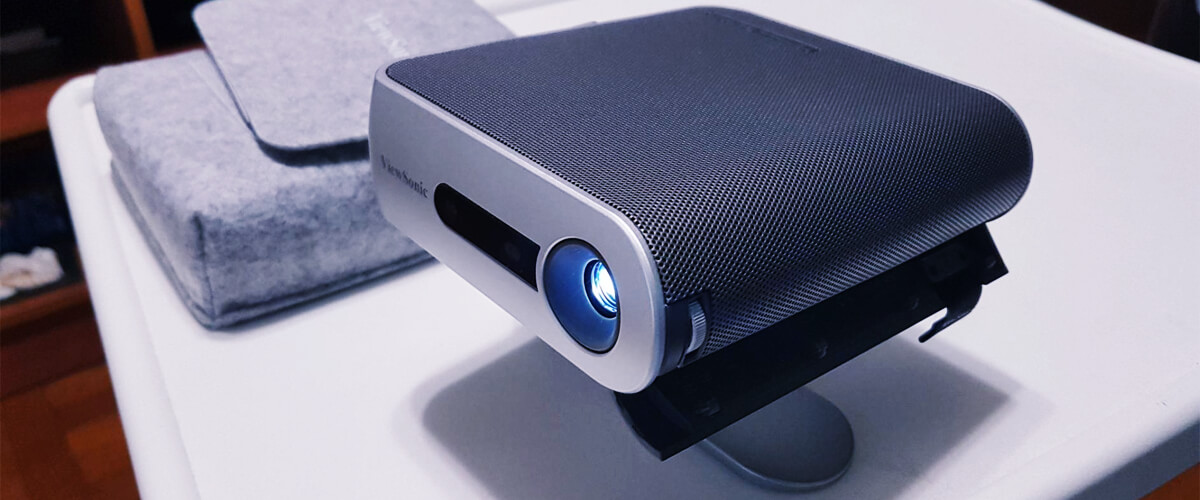 Easy installation is one of the ViewSonic M1+ features you will appreciate. Due to the 1.2 throw ratio, you can project an image of 24 - 100 inches from a distance of 2 - 8.7 feet. For an image of 38 inches, you will need at least 3 feet from the projector to the screen.
M1+ has a vertical keystone correction, automatically aligning the image as you turn the projector on. This device lacks zoom, so to increase or decrease the image size, you've got to physically move the projector around. The integrated smart stand is handy for finding the right angle for a neat picture reproduction.
Key specs
Display technology: DLP.
Resolution, px: 854x480.
Brightness, lumens: 250.
Contrast: 120000:1.
Throw distance, ft: 2-8.7.
Image size, inch.: 24-100.
Wi-Fi: yes.
Built-in speaker: yes.
This little fellow has everything to be your corner of civilization on camping trips or out of town. ViewSonic M1+ is portable and ergonomically designed, so you can carry it around without any worries about scratching the lens. Its battery lasts long, and versatile connectivity options give you the convenience of picking any video source. But what makes it the best projector for camping is the image quality – the colors are vivid, and the image is sharp in a dark environment.
LG PF50KA
My LG PF50KA review introduces you to a smart portable home theater projector from the renowned LG. This device can really open up the realm of immersive video content available in Full HD resolution on a wide screen. Let's take a closer look at the PF50KA and test it a bit.
Build quality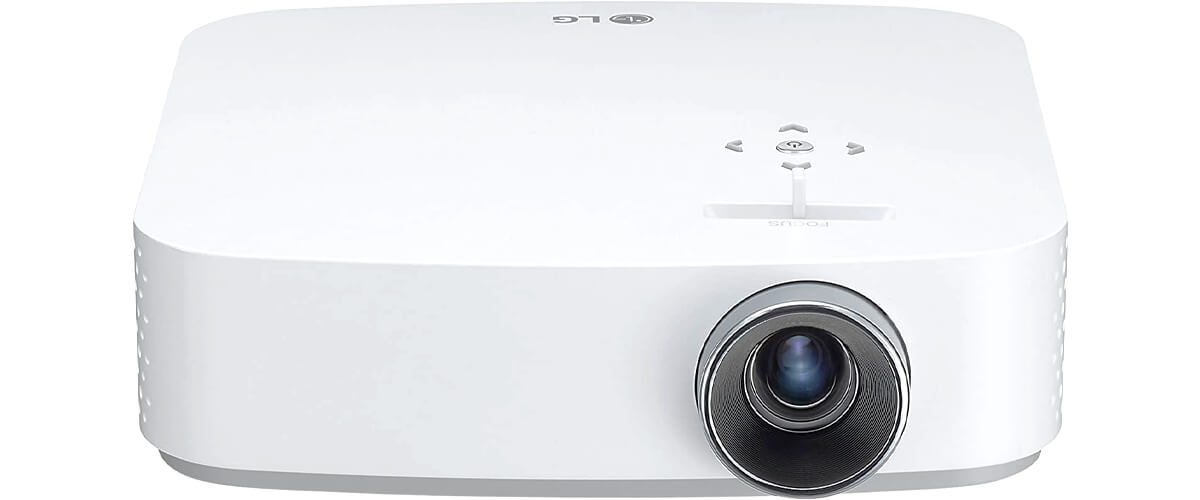 From the perspective of build quality, LG PF50KA is a well-made projector that feels sturdy. It is made of plastic, though durable. It is neither flimsy nor creaky, making a positive first impression.
Measuring 6.7 x 1.9 x 6.7 inches and having 2.1 lbs, it's indeed compact. You can fit it in your living room without being concerned about placement. Such dimensions allow you not only to place it in any room of your home but also to take it outdoors or to the home cinema session with friends, etc.
You can use two HDMI ports to connect different content sources for smooth video and audio transmission. There is also one USB-C and a USB-A 2.0. You will also find a digital TV tuner inside for hooking a digital antenna for local TV shows. Or attach external speakers to the 3.5 mm port for a louder sound. Wireless connectivity options are also present in this device.
Specs and features
This LG model provides true 1080p high-definition sharpness regardless of the compact size. It has two aspect ratio options: 16:9 and 4:3, for a versatile widescreen experience. The DLP chip technology and 100,000:1 contrast ratio altogether bring a lifelike image on a 100-inch screen.
The LG PF50KA features whopping 600 lumens. Of course, these parameters may not be sufficient for reproducing a razor-crisp image in a bright room. Yet, this is more than enough for dark environments and the moderately-sized image. Moreover, the powerful LED lamp will last up to 30,000 hours, sparing you from the headache of frequent lamp replacement.
Smart TV is a pleasant bonus in this projector. Thus, you can browse the library of apps available for download and use ones for streaming premium content. For example, you can use Netflix, Hulu, YouTube, and UFC.TV, and more, or access to other apps from a built-in browser. Moreover, you are free to stream content wirelessly from DLNA and Miracast supporting devices.
Two 1W + 1W speakers build a stereo system. However, they can not be satisfying in terms of output power, so you can hook a sound bar or other speakers. The option of pairing the projector with wireless speakers is also available.
Projection and picture quality
I am impressed with the dynamic contrast, vivid colors, and correct tones LG PF50KA reproduces. Brightness is also on the good side of this projector model. Even in low-light settings in a room with ambient light, the image is still good enough. Yet, the picture is not that great when the sun's rays go directly into the screen, though pretty much watchable. So, a well-lit room is not an optimal environment for PF50KA. Instead, you should consider a completely dark room to get the utmost viewing experience.
Videos in 720p resolution are slightly out of focus and tend to be blurred. On the other hand, 1080p content is clear and crisp. Distant objects are easy to see, and textures are well-pronounced.
Installation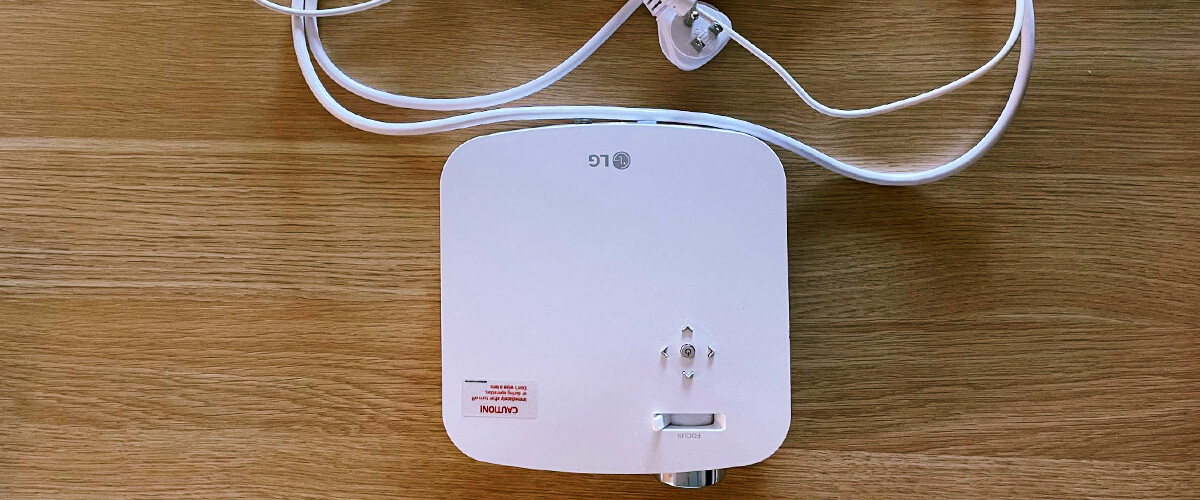 As you place the LG PF50KA projector in the desired spot and turn it on, you will have to adjust the focus and keystone settings. In case the image is blurry, the focus will fix that. Zoom is fixed, so there is nothing you can do to increase or decrease the image size but to move the device physically. There is only vertical keystone correction, though it works automatically by default. You can turn it off if you do not want to use this feature.
The maximum image size you will obtain with this projector is 100 inches. The throw ratio is optimal - 1.4. Based on LG PF50KA specifications, you've got to place PF50KA at a distance of 4.1 feet for a 40-inch picture.
Key specs
Display technology: DLP.
Resolution, px: 1920x1080.
Brightness, lumens: 1440.
Contrast: 100000:1.
Throw distance, ft: 4.1.
Image size, inch.: 25-100.
Wi-Fi: yes.
Built-in speaker: yes.
No doubt, when talking about the best portable projectors for camping, I can't pass by LG PF50KA. Its true 1080p resolution provides great image quality. Add the built-in battery and the light weight, and that's all you will want to see in a camping projector.
FANGOR F506
The FANGOR F506 seems to be packed with appealing specifications and a variety of connectivity options. But as it always happens with new brands, people put a little trust into what the specs say and want to ensure the product is not a scam. That's why I am here. I have already taken the F506 projector for a test, and I will gladly share my experience with you in this FANGOR F506 review. So let's dive into it.
Build quality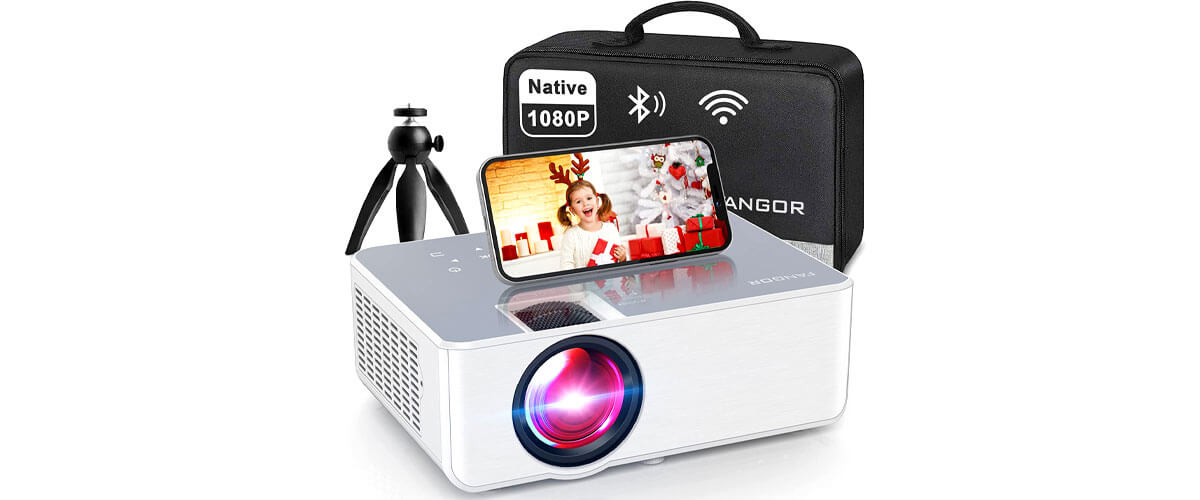 The FANGOR F506 is a good choice for daily entertainment as it is pretty compact and portable. So whether you want to arrange a cinema night in the living room or somewhere else, this little fellow will give you the freedom to go wherever you want. It measures 9.25 x 6.51 x 3.26 inches and weighs 2.80 lbs, so moving it around is nothing.
The whole construction is made of plastic. It is far from feeling sturdy, but I guess you won't be throwing it around. If you treat the projector with care, its casing will remain unbroken.
The connectivity options are similar to the ones you will find in high-end projectors. Apart from Wi-Fi and Bluetooth for wireless connection, there are also three HDMI and two USB ports. The FANGOR F506 also has AV and VGA ports, 3.5mm audio, and Micro SD ports.
Specs and features
There are multiple great FANGOR F506 features. One of them is a native 1080p resolution, which results in a full 1920x1080 picture. The device supports 4K, 1080p, 1080i, 720p, 576i, 480p, and 480i multimedia content resolutions. Note that even though it can play 4K, it won't be true 4K - the projector will downgrade the image.
As this is a LED-based projector, its bulb will last up to about 65,000 hours. Thanks to the 10,000:1 dynamic contrast ratio, the image gets depth and dimension as all blacks have a deep level and shadow details are clear. The device promises to deliver 5,000 lumens, but I really doubt that. The image loses its brightness and looks washed out as soon as some ambient light is out there.
The 5W built-in stereo speaker is pretty loud. Loud enough for a small room. It doesn't support Dolby, so do not expect to achieve a surround experience with this projector.
The FANGOR F506 doesn't have built-in apps, but you can connect to your phone or laptop via Wi-Fi to mirror the screen. Unfortunately, because of copyright limitations, you can't stream content from Netflix, Hulu, Amazon Prime, and other platforms directly from your phone. But you can use a TV stick or Roku stick to watch content from Netflix, Hulu, and similar streaming services.
Projection and picture quality
The image quality is average with the FANGOR F506 - it is neither astonishingly fascinating nor poor. Because of the native 1080p resolution, I was able to see pretty a lot of details - textures, hair, and other tiny objects. However, the brightness disappointed me - I expected that it would withstand ambient light and deliver a crisp image even in daylight. It didn't.
Also, I noticed that the projector has to be straight in front of the screen to have a clear image. If you place it off-center, you may have issues with the quality of the projection.
Installation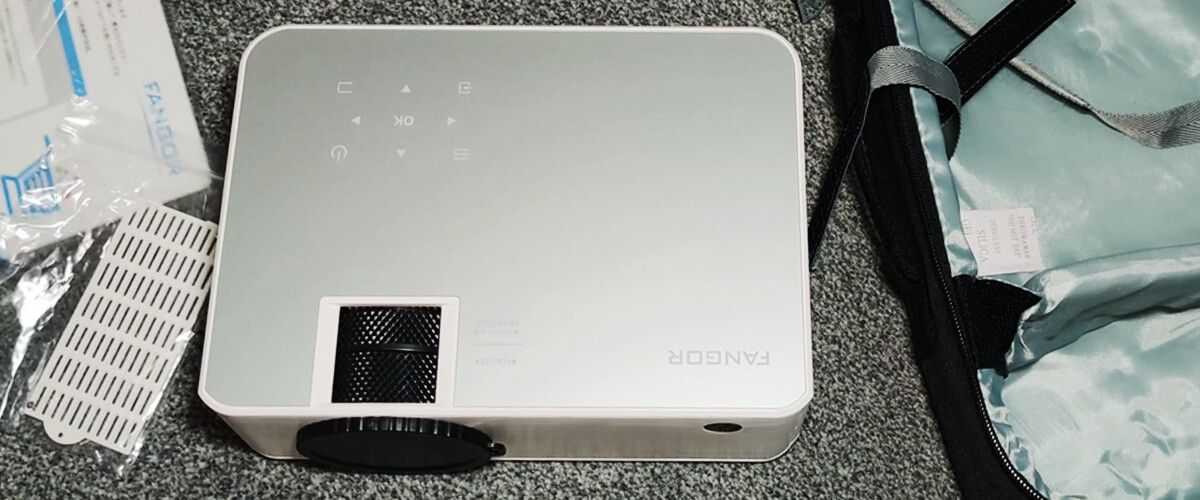 The FANGOR F506 specifications say that the projector can display a maximum 230-inch image. Though the recommended size is 30-160 inches. And that's understandable - it is not bright enough to project a larger image.
The keystone correction is fine, but only unless you need to make minor adjustments - it doesn't work too far. Also, you can focus on only the part of the screen, not the whole thing. That is why I recommend moving the projector by hand to find the right place for the device. And only then mount it. For more flexible use, you can use the included tripod.
Key specs
Display technology: DLP.
Resolution, px: 1920x1080.
Brightness, lumens: 5000.
Contrast: 10000:1.
Throw distance, ft: 6-15.
Image size, inch.: 30-230.
Wi-Fi: yes.
Built-in speaker: yes.
Out of numerous devices on the market, FANGOR F506 is rightfully on my list of the best campsite projectors. For the compact size, it delivers an amazing amount of detail and crispness. Also, I like the portable pouch and tripod, which are quite handy when planning a movie night outside your home.
FAQ
Can you use a projector in a tent?
Yes, you can use a projector in a tent, but with a few considerations. First, the space inside the tent and what distance between the screen and the projector is required. Second, make sure the tent wall you use as a screen is not too slanted. Otherwise, the image will be improperly projected, and the keystone correction may not help save the day.
Do projectors need ventilation?
Yes, projectors require ventilation. Just like any other device, a projector heats up as it emits light. Therefore, it is better to ensure proper airflow in the space where you plan to use a projector to avoid overheating.
Do projectors use a lot of electricity?
Some projectors do, and some don't. It all depends on the light source type. For example, LCD and laser projectors are more energy-efficient than LED devices. Also, battery-powered projectors may consume more energy than any other device.
How many lumens do you need to project at night?
In a dark room, 1,000 lumens is sufficient to project a large image (up to 200 inches). But smaller projections require less brightness, so a
portable projector
with 400 lumens will do pretty fine in a dark room when throwing an image of up to 100 inches.