Nearly every mini projector has two major downsides, which stem from the need to yield to the needs of portability – image and sound. That is why those enthusiasts who have been looking for a projector presenting a good compromise between the size, image, and audio quality are glad to welcome a new product by Epson on the market. In my Epson EpiqVision Mini EF12 review, we'll see if this model is a worthy option for purchase.
Build quality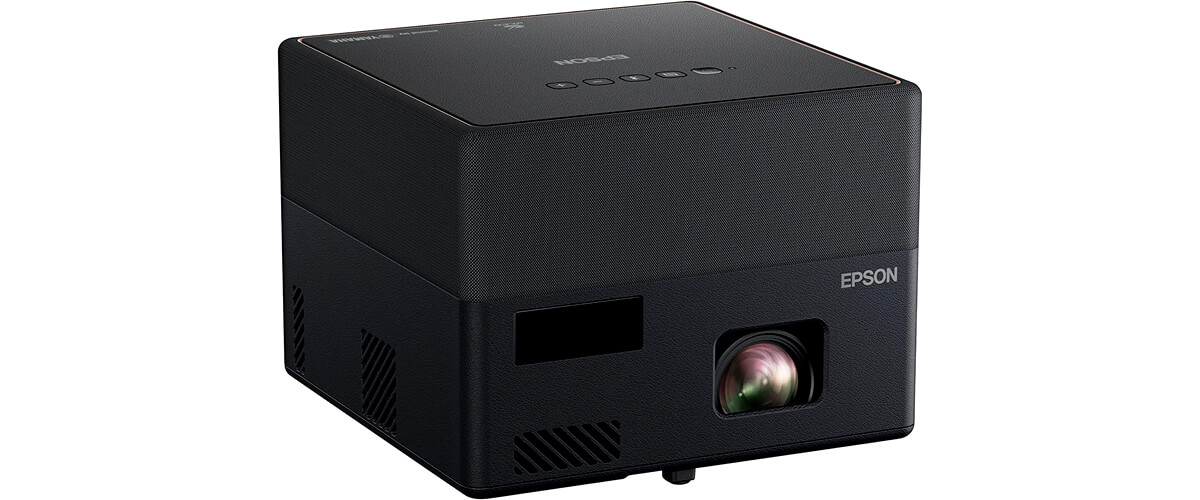 Upon unboxing, you will see a projector with a cube-like design. It looks unusual compared with most projectors on the market, but this feature makes it stand out. Weighing 4.7 pounds and measuring 6.9 x 6.9 x 5 inches, it is small enough to find a cozy place in your living room or any other spot in your home. Also, it will be fine to carry it with you too when you visit your friend, arrange a backyard cinema night, or plan any activity outside your place.
Epson EpiqVision Mini EF12 features two HDMI ports (one with ARC), a USB-A port, and stereo audio out. These ports are located on the side, but I would mind having them from the rear to avoid cables from being sprouted from the side.
Specs and features
The projection system is a 3LCD laser setup, which carries a lot of benefits. It outputs 1,000 lumens (for a portable projector, that's impressive) with a contrast ratio of 200,000:1, resulting in a sharp image. Though, I recommend using Mini EF12 in a dark room to achieve the most accurate color reproduction and image sharpness on a 150-inch screen. What impressed me is that this unit supports HDR10 and HLG color spaces. The native resolution of this projector is 1920 x 1080, but it can accept 4K content as well.
As this is a laser projector, you can't replace the light source. However, according to Epson EpiqVision Mini EF12 specifications, the device delivers 20,000 hours of operation in Normal mode without any maintenance.
Another prominent feature of this projector is the built-in Yamaha stereo sound system. The audio output is pretty good with enough basses and highs that are not strained. Connecting an advanced stereo or surround system will give you a more immersive experience as you watch movies or play games.
Moreover, this compact device has all the advantages of a smart TV. You can download any streaming application to enjoy premium content wherever you go. However, it is not compatible with Netflix, which is a pity for the fans of their art. The availability of Chromecast may compensate for this flaw, as you will stream content from your phone or laptop directly to a larger screen.
Projection and picture quality
As there are several modes like Dynamic, Bright Cinema, Cinema, Natural, and Vivid, you can customize the watching experience based on the content type. It's better to experience the modes to determine which works better for you based on your environment and preferences. For me, the brightest Dynamic mode makes the image look unnatural, so I prefer other pre-set modes.
I found that a little scattered light washes out the image, so using this projector during the day or in a bright room would not be the right thing to do. Also, while watching movies, I was disappointed with the dark scenes because they lacked shadows and detail.
Installation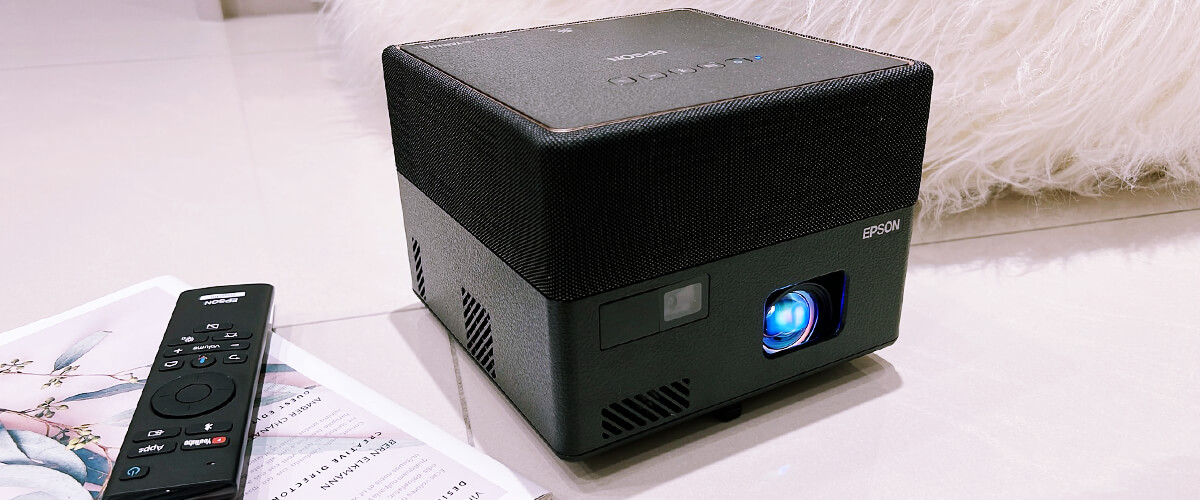 The Epson EpiqVision Mini EF12 has a throw ratio of 1:1. For the image size of 100 inches, the projector should be at least 7 feet away from the screen.
Setting up Epson EpiqVision Mini EF12 for work can be a challenge. As you start, the device projects fuzzy green dots on the screen. That's how it autofocuses. Adjusting the focus can be tedious, manually matching every image corner to the screen. You will do the drill many times if you move the projector around. The ability to zoom the image is also lacking. Luckily, there is auto vertical and horizontal keystone correction, adding some convenience to the installation process.
Key specs
Display technology: 3LCD.
Resolution, px: 1920×1080.
Brightness, lumens: 1000.
Contrast: 200000:1.
Throw distance, ft: 2.1-7.3.
Image size, inch.: 30-150.
Wi-Fi: yes.
Built-in speaker: yes.