No words are required when you talk one-on-one with higher powers. But when people come to the church, visuals projected on a big screen can significantly increase the comprehension of the message and highlight the right message points the preacher delivers. That's when projectors are required. In this review, I will look through the best projectors for churches to help you settle on the device that meets your needs. You will also delve into the features that may play a crucial role in your decision-making process. So, dive into the read and grasp valuable insights.
Our pick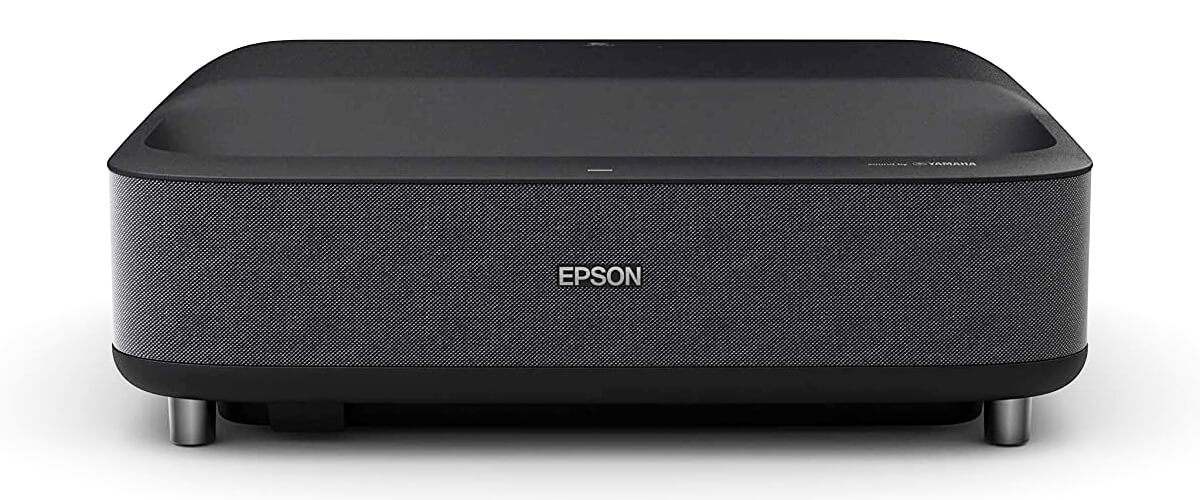 Epson Epiqvision ultra LS300
Best daylight projector
The Epson Epiqvision ultra LS300 is a smart streaming laser projector with built-in Android TV3, wireless connectivity, and Yamaha sound to create a unique audio experience.
Read the full review
.
Projector for churches comparison table
Name
Display technology
Resolution, px
Brightness, lumens
Contrast
Review
Epson Epiqvision ultra LS300

best overall

3LCD
1920×1080
3600
1500000:1
Review
Optoma GT5600
DLP
1920×1080
3600
20000:1
Review
ViewSonic M2e
DLP
1920×1080
1000
3000000:1
Review
What to look for in the best church projector?
Throw Ratio
Before you buy a projector, make sure you consider at what distance it will throw the image. Usually, long-throw projectors are a preferred choice for churches because of the spacious nature of the building. They are also easy to attach to the ceiling – so the perfect projection angle can be achieved. And once mounted to the ceiling, it will unlikely be moved to another place. But there are always exceptions to the rules. If you plan to move around with a projector or have a very small room for church followers, short-throw or even ultra-short-throw projectors will be a better choice.
Resolution
You are not going to stream Avatar or other high-tech movies to parishioners, so you may assume that a high resolution is redundant in a worship projector. But, in fact, you still appreciate having a lot of pixels in the projector of your choice. For sure, a 4K projector is not necessarily an option, but a 1080p is a smart decision for the church projector. This resolution is optimal for keeping images, prayers, lyrics, and other materials readable and sharply displayed.
Brightness level
A projector with the highest brightness level may be a pleasant bonus, but it is not necessary. High brightness is required for light rooms, that's 3,600 lumens and higher. Since the lights in the church are usually dimmed, and ambient light is present, I recommend you stick with the projector model with at least 3,000 lumens.
Best projector for churches reviews
Epson LS300 is a model that falls within the new EpiqVision Ultra range. It is the second product in the lineup by the resolution and advanced features available, so it may deliver plenty of satisfaction to those looking for a new screenless TV experience. Hence, if you set your sight on this product, my Epson Epiqvision ultra LS300 review is for you. I tested it in my living room and am thrilled to share my insights with you.
Build quality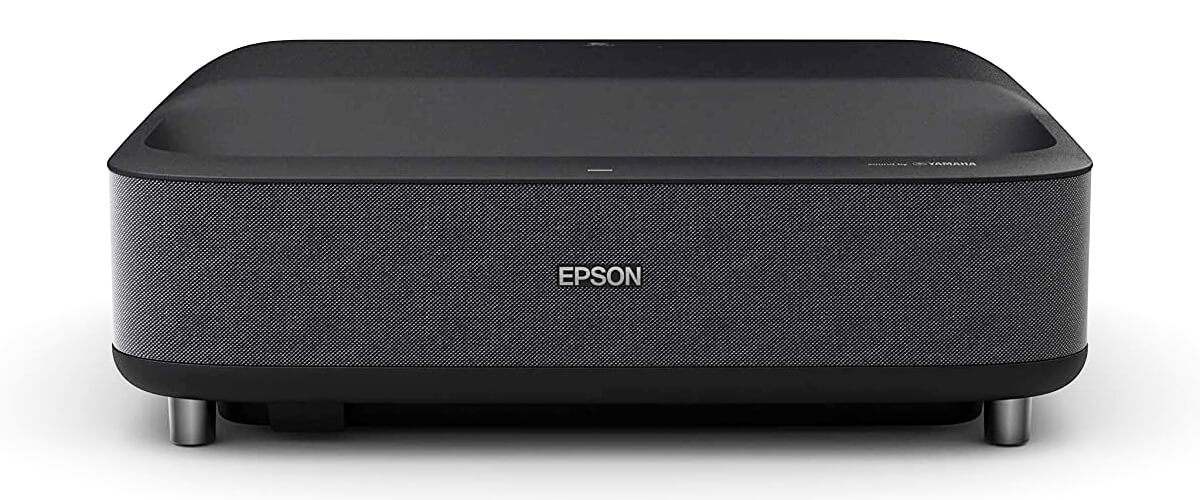 The sleek design catches your attention right away as you see the Epson Epiqvision ultra LS300. It doesn't feel like an ordinary projector. It may resemble a speaker if you look at it from a distance because it doesn't have a front lens. There are white and off-white versions of this device, so you can pick the ones that will fit your room style.
The Epson Epiqvision ultra LS300 specifications suggest that this unit measures 18.0 x 9.0 x 14.8 inches and weighs 20.9 lbs. Not the lightest one on the market for sure, but it won't spoil your experience at all. After all, you won't be moving it around too often.
There are two HDMI ports on the rear to connect your sound set-up or other video-audio sources. One of the ports supports ARC. You can also use USB-A, USB-B 2.0 inputs and an optical audio output. Though LS300 supports Wi-Fi, it doesn't have ports for an Ethernet connection.
Specs and features
There are many fascinating things about Epson Epiqvision ultra LS300, so let me uncover them one by one for you.
First, this projector doesn't have a lamp to project an image. Instead, it relies on a laser. Because of this and 3LCD technology, you will have a bright viewing experience as you watch movies, sports events, or play video games. It can also accept 4K content but note that it will downgrade it to a native 1920 x 1080 resolution.
As for other merits of laser, I would also like to stress the longer laser lifespan. This device will be emitting 3,600 lumens within 20,000 hours. That's a considerable amount of time, considering that an average lamp lasts only 1,500 - 2,000 hours. So, Epson Epiqvision ultra LS300 will work ten times longer than most other units.
Second, LS300 is supported by ultra-short throw laser array technology in charge of an exceptional level of brightness and great black density, even from a minimal distance.
Third, running on an Android 10 operating system, this Epson projector gives access to major streaming apps like Hulu, HBO, Disney+, YouTube, and more. However, the absence of Netflix is a little bit disturbing. But if you have Chromecast-compatible devices, you will have no issues streaming content directly from your gadgets.
Prominently, the Epson Epiqvision ultra LS300 features a custom-designed audiophile 2.1 speaker system. It works great out of the box, but you can mess it up with a few settings. Though I prefer using an optical out for hooking it to a surround receiver.
Projection and picture quality
Let me pin your attention to the fact that default settings won't deliver a fully enjoyable watching experience. They lower color warmth and increase contrast, making it similar to an ordinary TV. However, the advanced scene adaptive color correction feature is a good thing. It adjusts to the content on the screen to reproduce a natural and clear image. The motion processing is smooth in LS300, though the lack of motion settings may affect some rapidly paced scenes.
Installation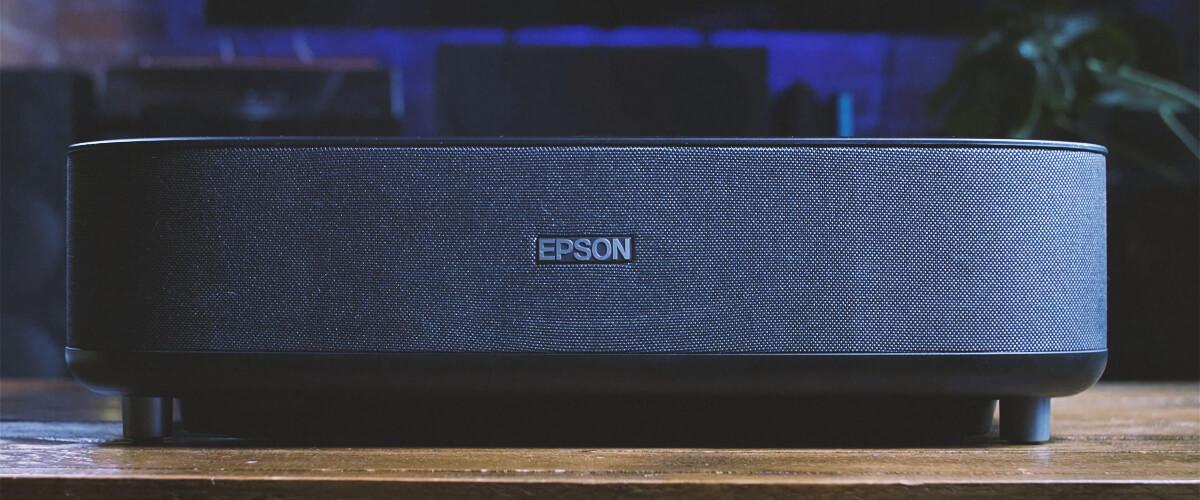 As an ultra-short-throw projector, it should be placed at a minimal distance to reproduce an image of up to 120 inches, at 1 to 15.2 inches, correspondingly from the projector to the screen.
With the vertical keystone alignment, you can refine the image placement if you notice some deviations because of the improper placement. In addition, there is a micro-lens array feature along with a focus control to help you adjust the image to the desired parameters.
Key specs
Display technology: 3LCD.
Resolution, px: 1920x1080.
Brightness, lumens: 3600.
Contrast: 1500000:1.
Throw distance, ft: 13.7-27.7.
Image size, inch.: 6.1-120.
Wi-Fi: yes.
Built-in speaker: yes.
As a bright projector that outputs a decent large image from a short distance, the Epson epiqvision ultra ls300 makes the best projector for churches. With a high contrast ratio, the parish will clearly see everything you share with them on the screen, whether it is an image or text. It is also straightforward to install and set up. So, you will easily hook all the devices and align the image so that it is properly centered on the screen.
Optoma GT5600
As you look through the specs, you will immediately understand that Optoma GT5600 is a high-definition projector that will transform your entertaining experience. It has a lot to offer its future owners, and it also deserves my attention. In my Optoma GT5600 review, I went over this projector's main features, pros, and cons, so you know if it's right for you.
Build quality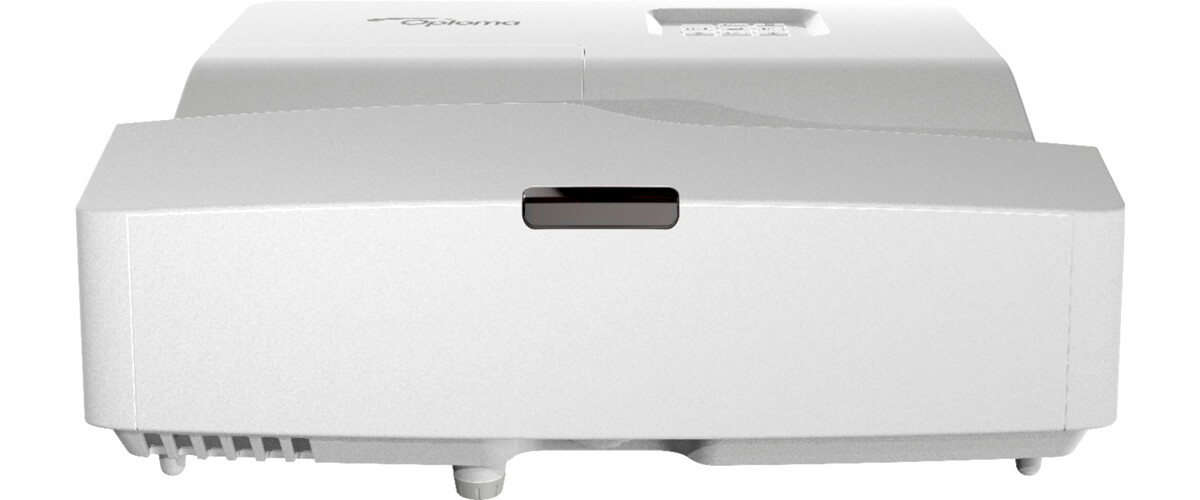 High-end projectors are not lightweight. That's because they incorporate technology and components that are not available in more affordable models. Optoma GT5600 is not an exception. This device is on the heavier side, making 8.6 lbs and being 13.5 x 15.08 x 4.41 inches. Yet, it will easily fit into the top of your TV shelf.
The projector's body is sturdy and well-made. It has a curved form, which adds to the unique look of the device. There are two HDMI inputs with 3D support, one VGA, a composite video, and Audio 3.5mm ports. You will also find two USB-As as well as RS232 and RJ45 controls.
Specs and features
This ultra short-throw DLP projector supports 1080p Full HD (1920x1080) resolution, not 4K. For most people, 1080p is more than enough for a pleasant movie night or gaming. It also supports 16:9 and 4:3 aspect ratios, though its native one is 16:9. 3D compatibility is another bonus of this model. Just hook up the projector to any 3D source like a 3D Blu-ray player, 3D broadcasting, or games console. Voila! It's done!
If you appreciate rich colors and dynamic videos, you will undoubtedly like Optoma GT5600. Its 20,000:1 contrast ratio and 3600 lumens of brightness will overcome ambient light. But remember, this is a lamp projector, so the light source's lifespan is not that long. For example, you will get 4,000 hours of operation in Bright, 12,000 hours in Dynamic, 10,000 in Eco, and 15,000 in Eco+ modes.
Among the Optoma GT5600 specifications, the ultra-short-throw capability is a crucial parameter for your consideration. Thanks to this, this projector is suitable for placement in small rooms, right under the screen.
The built-in 16W speaker is a disappointment. So, you may want to connect the projector to a sound system to truly enjoy the gaming or watching experience. Personally, that's what I would do.
You may use USB display screen mirroring to supersize your Android and iOS content. Or you can get an optional HDCast Pro connectivity for wireless broadcasting.
Projection and picture quality
Let me say at the outset that this is not the sort of projector you will use out of the box. Even with my experience, it took me quite a while to adjust the colors and brightness correctly before I reached the desired result. And I was not disappointed. The colors were vivid, the whites were bright, and the blacks were deep. I should mention that I had no problem using this projector in a well-lit room. The image was just fine. Although I must admit, it depends on the type of screen, and in some cases, I do not exclude that the image will be a little blurry.
Installation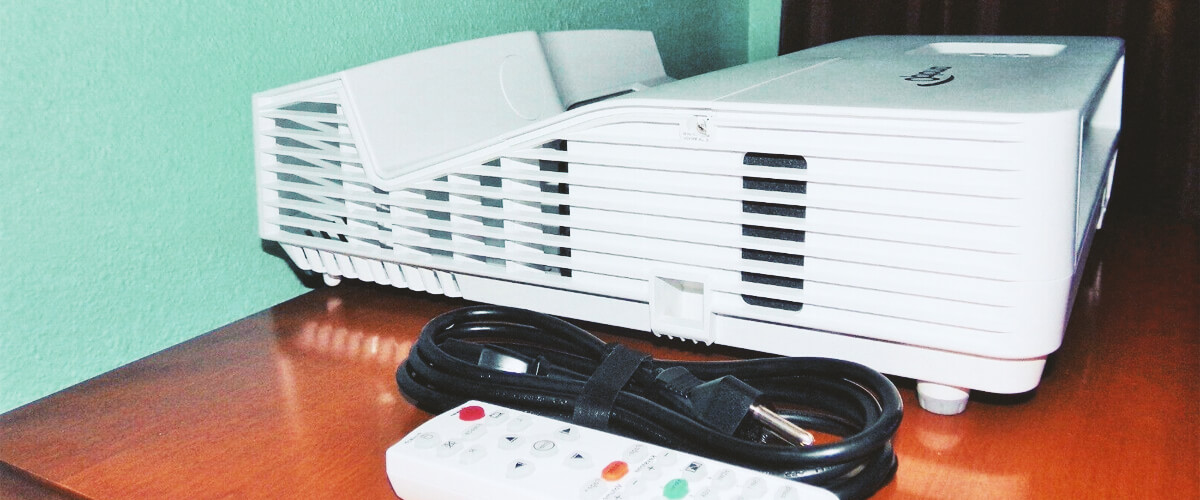 Optoma GT5600 won't bother you with hours of setup. With keystones in both the vertical and horizontal planes, you will achieve an image that is properly centered from all sides. This can be handy when the device is placed at an awkward angle. It doesn't have a zoom but comes with a 118% offset. Lens shift is unavailable as well.
With a 0.25:1 throw ratio, Optoma GT5600 features the capability to produce an 80 - 100-inch image at a distance of 6-9 inches.
Key specs
Display technology: DLP.
Resolution, px: 1920x1080.
Brightness, lumens: 3600.
Contrast: 20000:1.
Throw distance, ft: 4.4-16.9.
Image size, inch.: 80-100.
Wi-Fi: no.
Built-in speaker: yes.
So, Optoma GT5600 has all the features you need for more impactful communication with congregants. Full HD resolution and high brightness make it a more suitable projector for worship than any other. In addition, with different connectivity options and wireless control, you will break no sweat when setting up the device for the upcoming liturgy.
ViewSonic M2e
Do you lack versatility with a TV or computer screen when it comes to viewing content? Portable projectors are designed to give users the flexibility they look for. So, today let me present the product that may satisfy your demand. In my ViewSonic M2e review, I will check out the unit that proudly holds the status of a smart, compact projector. Keep reading, and you'll find out what makes this device so versatile and what features might disappoint you a bit.
Build quality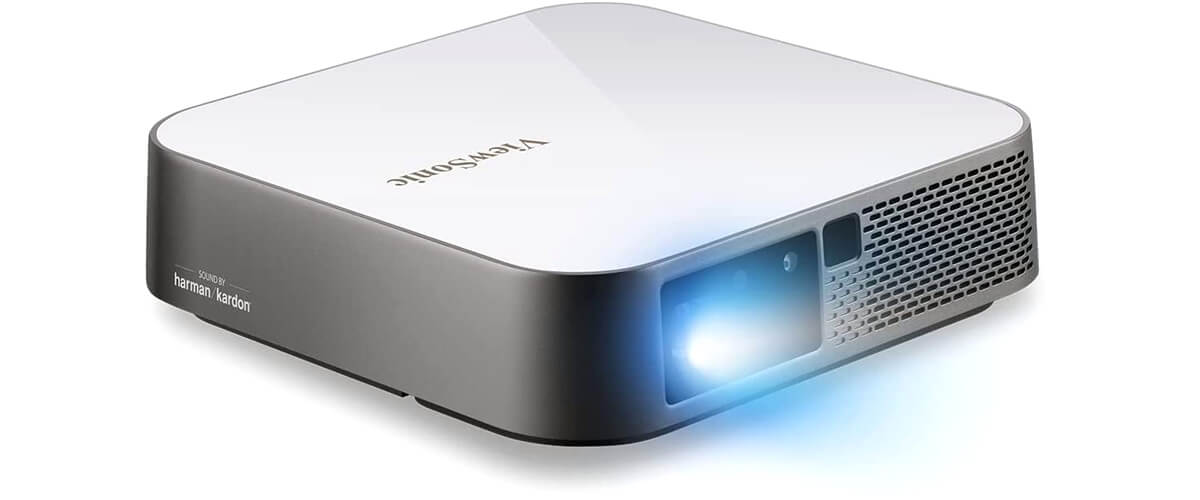 In M2e, ViewSonic has totally nailed the portability thing. Being 7.2 x 2.1 x 7.2 inches and weighing 2.2 lbs, you can throw this projector in a backpack or carry it with you without much trouble. A pleasant bonus - the device comes with a carrying case with compartments for cables and other accessories.
Regarding connectivity, there is an HDMI 1.4 port with HDCP 1.4. You can also connect devices via a USB 2.0 Type A and USB 3.1 Type C. For hooking external audio speakers, use a 3.5 mm jack or pair speakers over Bluetooth. Additionally, there is an SD slot for inserting the memory card (not all projectors have this option). Screen mirroring is also available in M2e, making it fairly easy to stream content from your phone, tablet, or laptop. There is also 5 Gz Wi-Fi for accessing the Internet wirelessly. To be honest, I didn't expect the capabilities of this " babe" to be so extensive!
Specs and features
How is it possible that M2e delivers instant entertainment in nearly any room? Let's take a closer look at the ViewSonic M2e features to get a better idea.
M2e by ViewSonic is a new breed of DLP LED projectors. Its full HD (1920x1080) resolution, 3,000,000:1 dynamic contrast ratio, and 125% Rec.709 color accuracy blend together to project incredibly vivid and lifelike images on a screen up to 100 inches.
With the LED light source, the projector emits 1,000 lumens. For a portable device, that's quite a number! Because of this, it can withstand some minor ambient light, but not too much. I would say it's better to be used in reasonably dark environments for a better experience. As for the number of working hours, the LED light source provides over 30,000 hours of operation. In addition, it consumes less than half the power of a typical LCD TV, lowering the ownership cost.
It's sad that the ViewSonic M2e doesn't have a built-in battery as most portable projectors do. Thus, it must be plugged into a power source to work.
This compact fellow comes with 3W Harman Kardon stereo speakers, which aren't bad at all. However, a soundbar will be a massive improvement.
ViewSonic offers a few apps, which you can download from the App Store and Play Store. In addition, there is a distance calculator and a setup app to help you customize your experience. You can also download a remote app to avoid the need for physical remote control.
The app selection in the M2e operating system is something that leaves much to be desired. For example, there is no official YouTube, only a sort of knock-off version, which is hardly optimized for a smooth experience. Other apps like MLBTV or Netflix are available, but they are hard to navigate and have some lags.
Projection and picture quality
In the right setting, the picture projected by M2e is sharp and detailed. However, as I have already mentioned, the projector needs a dark room for better performance. Therefore, turning off all the lights and scheduling movie-watching in the late evening greatly impacted the image quality. I also want to note that the large images were not clear enough and lacked brightness.
Motions are handled well by this projector. It keeps up with the fast pace of the image in most cases. Though dark scenes don't look great.
Installation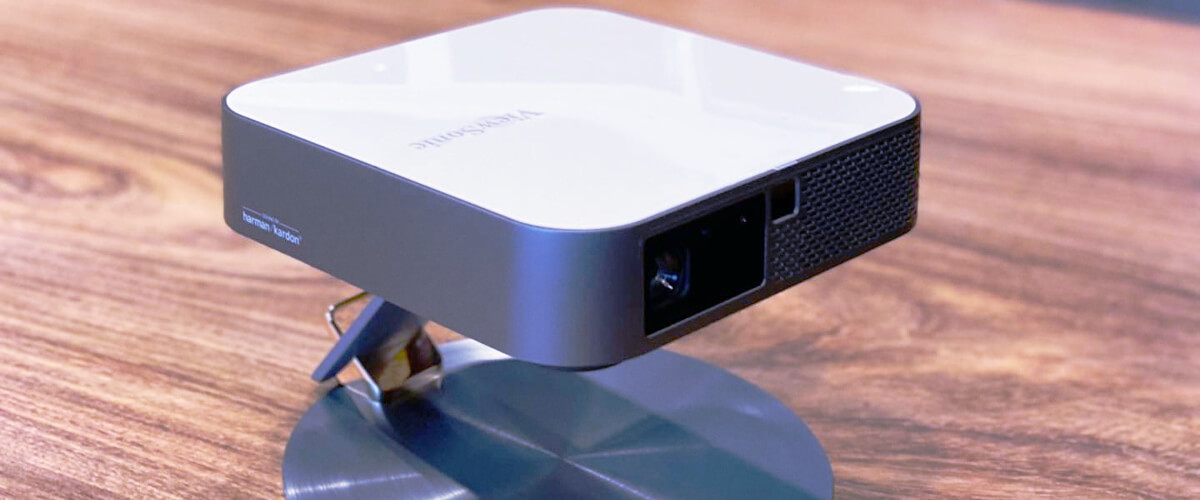 With the 1.21 throw ratio specified in ViewSonic M2e specifications, the projector requires a distance of 2 - 8.7 feet to project an image. As you turn on the device, it usually takes a while to start up the operating system and optimize all the apps.
The fixed optical and limited digital zoom (0.8x to 1x) make the placement tricky at home. Consider this aspect, please. But quick, effective auto keystone and focus correction proved to work well at short or moderate distances. I've had quite a few problems with focusing at a long distance. The only way to fix the projection angles is to use manual calibration.
Key specs
Display technology: DLP.
Resolution, px: 1920x1080.
Brightness, lumens: 1000.
Contrast: 3000000:1.
Throw distance, ft: 2.1-8.7.
Image size, inch.: 25-105.
Wi-Fi: yes.
Built-in speaker: yes.
When versatility and portability are in priority, ViewSonic M2e is one of the best church projectors that will totally satisfy your demand. It is lightweight but doesn't interfere with the projected image quality. So no matter what circumstances you have to preach, this projector won't let you down.
FAQ
What are must-have cables for projectors?
What cables you should have in your arsenal lean on what devices you want to connect to your projector. Generally, HDMI is a must – you can hook quite a lot of gadgets without any loss in the A/V signal. To connect speakers, opt for a 3.5 mm jack cable. Finally, a VGA wire is a good choice for computers, especially older machines. Discover the
whole variety of must-have projector cables
in this article.
How long can a projector run continuously?
If you want to prolong your projector's lifespan, you should stay away from running it for a long time. Extensive use without proper cooling is not good for the device's performance and bulb life. Keep the projector on continuously, and you burn it out. So, make sure you give the projector some rest every 5-6 hours to prevent it from wearing out prematurely.
Do projectors overheat easily?
Since projectors use lamps, bulbs, or lasers to emit a certain degree of light (thus, power) to produce a clear projection, they are prone to overheating. Furthermore, the projector can quickly get too hot with restricted airflow or clogged ventilation vents. Therefore, modern projectors are equipped with advanced cooling systems that prevent overheating. In addition, proper maintenance is required.
Do I really need a 4K projector?
4K projectors are great, but they should not necessarily be an option for you. They are mainly used for gaming or watching UHD movies by sophisticated gamers and cinephiles. For normal church use, a 4K projector can be an unnecessary expense – it's quite expensive, and you probably just won't need all its features.