With the release of CineBeam HU70LA, the LG brand has proved one thing – 4K projectors have a huge potential to become affordable for most people, just like 4K TVs. Because of some minor flaws (which I will cover later), this projector can hardly win the race with its high-end counterparts. Though, to my mind, it has a lot of amazing stuff that overweights the flaws By the way, you may find them completely insignificant considering your needs or assembled watching environment. So, let's delve into the LG CineBeam HU70LA review to learn what makes this projector unique and what you will have to tolerate.
Build quality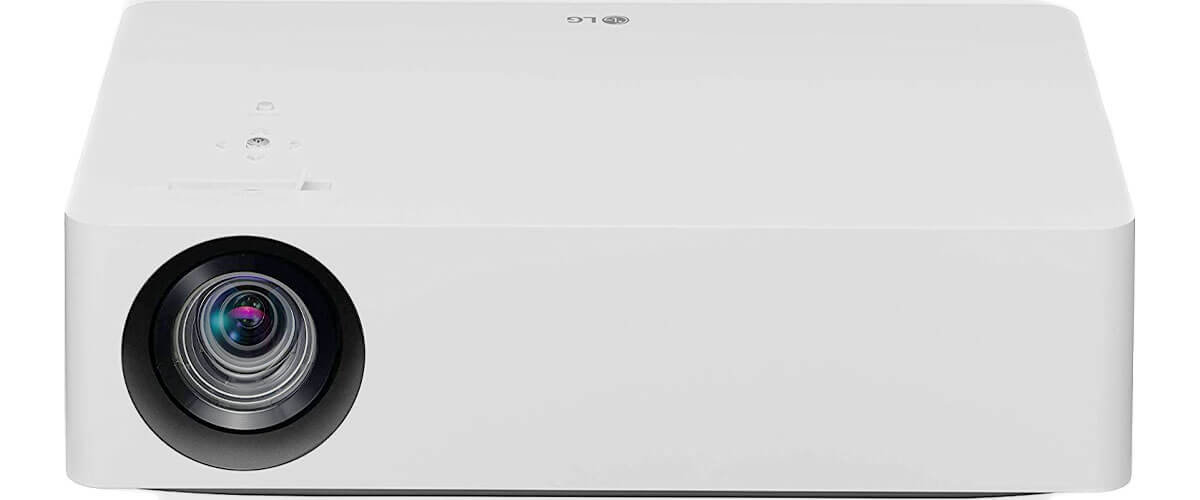 As you look at LG CineBeam HU70LA, you will fall in love with it at first sight if a minimalistic design is your preferred choice. It looks sleek, not clunky, so it will fit any home. It is also compact. Measuring 8.3 x 12.4 x 3.7 inches and weighing 7.3 lbs, it doesn't need much space. Place it on a small table or mount it to the ceiling – whatever feels right for you.
While nothing may catch your eye at the front, you will be more willing to look at the back of the projector – that's where all the fun is. On the back, you will find two HDMI ports, two USB ports, a USB-C port (which is really nice), and an optical output. An Ethernet port and a stick input are also available here. That's a pretty good functionality, allowing you to hook anything from your speakers, TV, computer, and smartphone.
Specs and features
The CineBeam HU70LA is built around DLP technology to deliver impeccable precision and detail. With a native 4K UHD (3840 x 2160) resolution and HDR 10 support, you can enjoy the content the way it was intended.
According to LG CineBeam HU70LA specifications, the LED light source will last around 30,000 hours. The brightest value you can get from this projector is 1,500 lumens. That's the first thing you may not like – the room must be dark to enjoy the quality image projection.
Two 3W + 3W stereo speakers are fine for a small room, but nothing more. So if you want to get a better audio experience, you'd better connect the projector to a sound system or speakers.
LG CineBeam HU70LA offers a range of different modes to meet your watching needs: Vivid, Standard, Cinema, Sports Game, HDR Effect, Expert (Bright Room), and Expert (Dark Room). I usually use Cinema mode, as it delivers great color accuracy. For more brightness, you can switch to Standard or Vivid modes.
This projector has a smart LG TV running on LG's WebOS operating system. It allows streaming content from Disney+, Netflix, Youtube, Amazon, LG Channels, FandangoNow, and Spotify Music. You can find other apps in the App Store. In addition, LG equipped this device with Google and Alexa voice assistants to make it easier to control the content. Or you can use a Magic Remote and Bluetooth for remote control.
Projection and picture quality
As I already said, this projector's brightness is not the strongest side. It won't be a big deal – if you use it in a dark room. However, in a room with ambient light, the blacks are not as deep as you may want. Thus, this may prevent you from enjoying ultra-HD content. But if you are going to use the projector in the evening with the lights off, you have nothing to worry about.
In other terms, the image quality is fine. The colors are accurate, and the reproduction of details is good. Motions feel fluid and smooth, so even high-paced scenes do not lose their dynamic.
Installation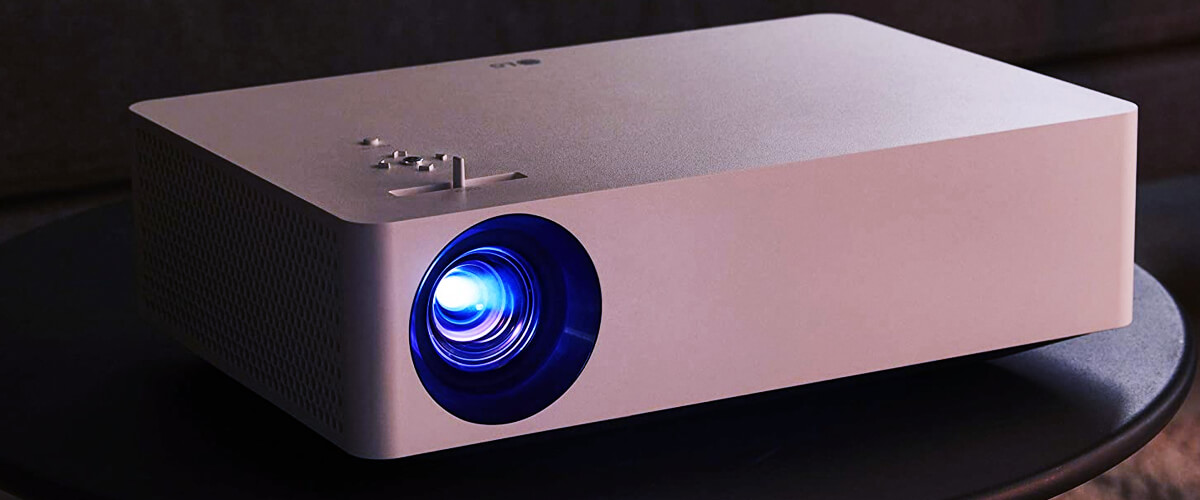 With this projector, you can throw an image between 60 to 140 inches. For a 100-inch image, the projector should be at least 8.9 ft from the screen.
LG CineBeam HU70LA features auto vertical keystone correction, which is a great advantage. No more manual adjustments – the system will do all the corrections on its own. There is also a 1.25x zoom. You can adjust the screen size using the remote control – without needing to change the projector's location. You can control focus using the remote as well.
Key specs
Display technology: DLP.
Resolution, px: 3840×2160.
Brightness, lumens: 3600.
Contrast: 150000:1.
Throw distance, ft: 6-22.
Image size, inch.: 60-140.
Wi-Fi: yes.
Built-in speaker: yes.