Purchasing a projector is only half of the job. With this device, you also need to have certain cables on hand for greater versatility. You will connect different media devices with specific wires as you set up your home theater. So, what are the must-have cables for projectors? I will give you comprehensive answers to all your questions in my article.
Types of projector cables
There are different types of cables you may want to consider for your home or business projector, like digital, analog, and audio. You will also find separate cables for connecting mobile and other handheld devices.
Digital projector cables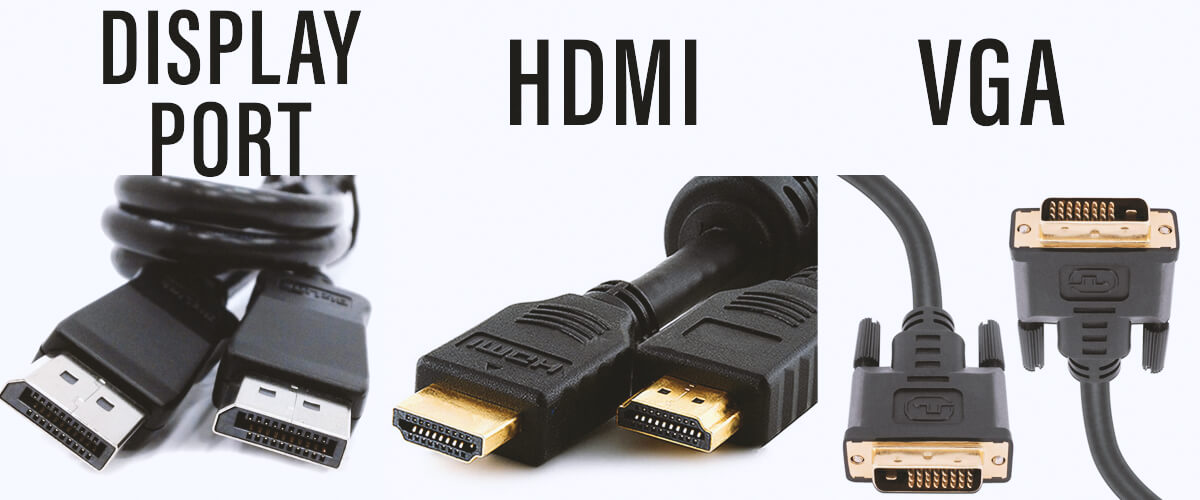 Digital cables transmit a digital signal through a series of 1's and 0's, which results in driving more data. Because of that, these cables are capable of transmitting HD programming.
HDMI
High Definition Media Input (HDMI) is the most widely spread cable for audio and video (A/V) connections. So, in fact, you need only one cable to cover both audio and video signals as you connect an HD media player to the projector.
DisplayPort
DisplayPort cables will be a decent replacement if you are looking for an alternative to HDMI to transmit both audio and video signals. They are compatible with a range of devices, from smartphones to computers.
DVI
Digital Visual Interface (DVI) comes in 3 variations – DVI-D (digital), DVI-A (analog), and DVI-I (both digital and analog). These cables create a connection between a video or data source (like a computer) and a display device (projector). It is a preferred choice if you use 1080p monitors.
Analog projector cables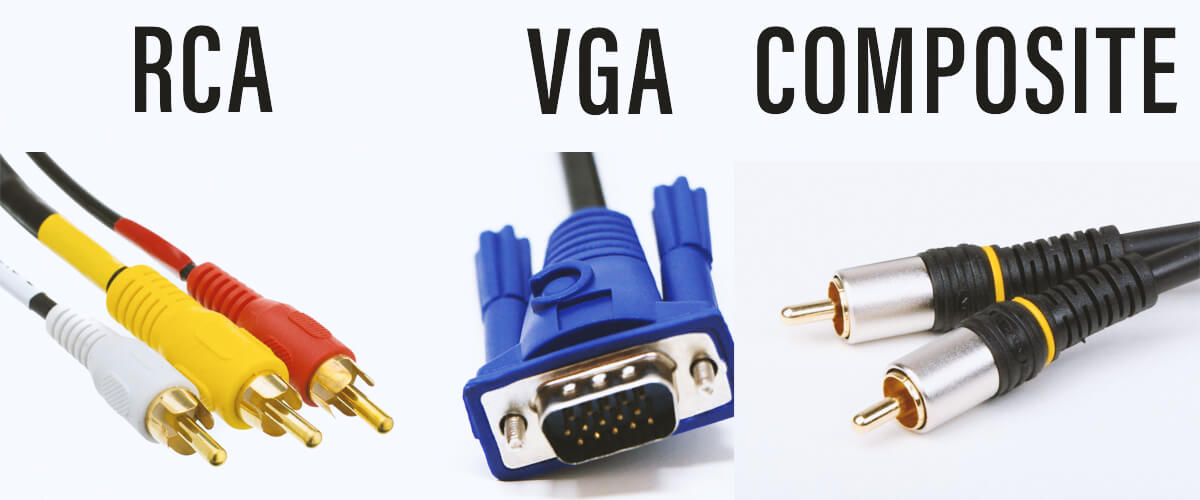 Analog cables have been here for a while before digital cables began to dominate the market. They are a preferred choice for audiophiles as they deliver the purest and most natural sound.
RCA
The RCA (Radio Corporation of America) cables are probably the oldest A/V connectors. They are color-coded (red – right channel audio, white – left channel audio, and yellow – video) for ease of use. Yet, this is the lowest quality cable for a video source.
VGA
Video Graphics Array (VGA) is a good choice for a computer-projector connection, especially with older machines. It is a standard monitor male-to-male cable for transmitting video. Yet, VGA is rarely used now as HDMI has become a new standard.
Composite Video
You can come across composite video ports in some projectors, which are also known as YPbPr or RGB. Like RGA, these are color-coded plugs, but these are red, green, and blue this time. This cable used to be the analog video transmitter delivering standard definition (SD) video content.
Audio projector cables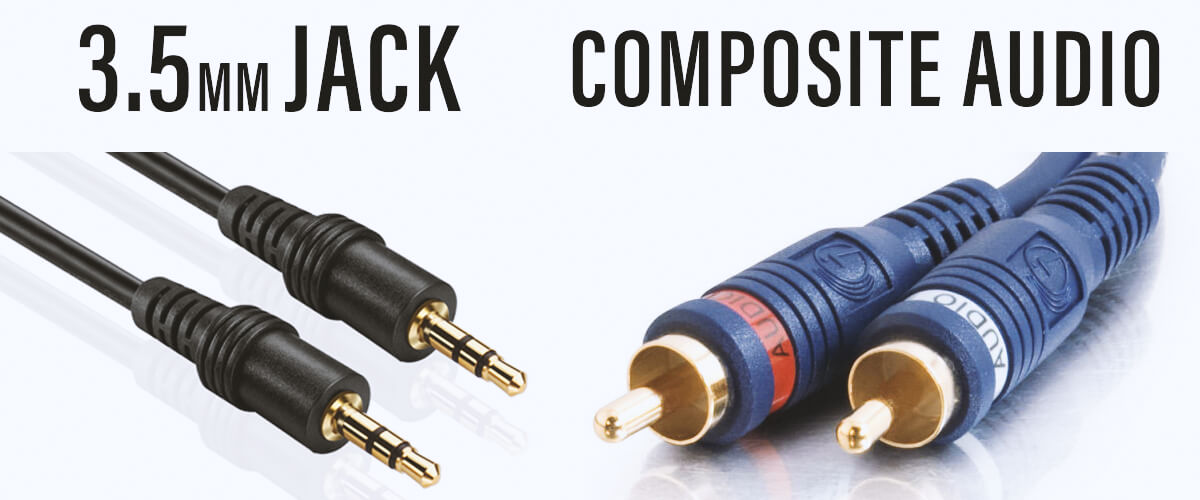 While there are A/V cables that might reduce the need for separate audio connectivity, here you will find specialized audio cables to run a projector.
3.5 mm jack
If you are going to connect speakers or headphones to your projector via a cable, you will probably use a 3.5 mm jack. This cable receives audio signals from the projector and transmits them to external speakers. Note that the audio quality will be somewhat worse than composite audio cables.
Composite audio
Being a companion to composite video, these cables have white and red connectors for the left and right audio, respectively. This way, they cover two stereo speakers, allowing a more voluminous audio reproduction.
Cables for mobile handheld devices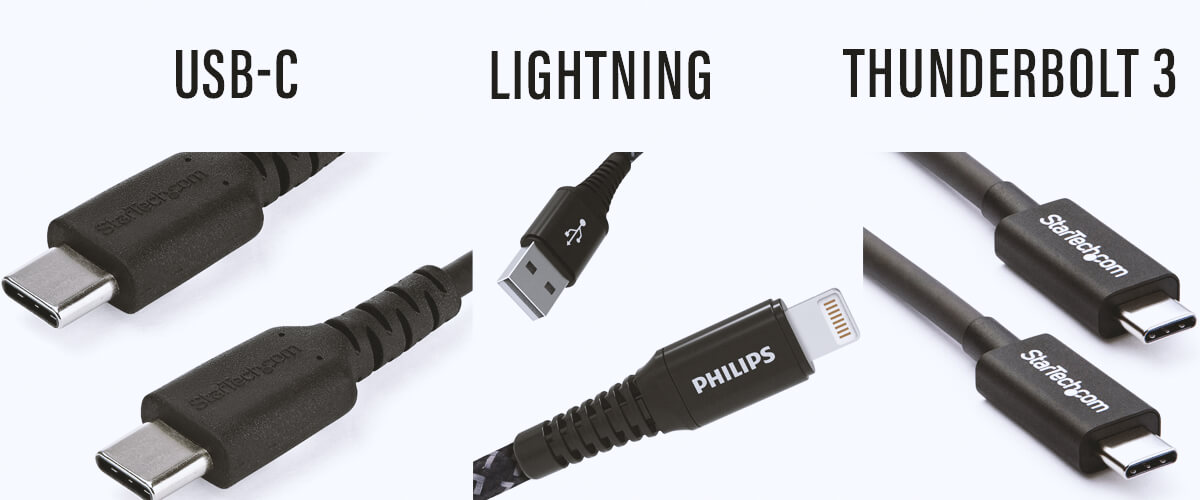 Mobiles and other handheld devices have become indispensable parts of our lives. So, here are the cables needed for today's projectors to achieve smooth connectivity with mobile gadgets:
USB-C – for Android phones
Lightning – for iPhones
Thunderbolt 3 – for MacBook Pro.
Also, you should not forget about adapters that will allow you to set up the desired connection, even when one of the devices doesn't have the corresponding port.