Do you lack versatility with a TV or computer screen when it comes to viewing content? Portable projectors are designed to give users the flexibility they look for. So, today let me present the product that may satisfy your demand. In my ViewSonic M2e review, I will check out the unit that proudly holds the status of a smart, compact projector. Keep reading, and you'll find out what makes this device so versatile and what features might disappoint you a bit.
Build quality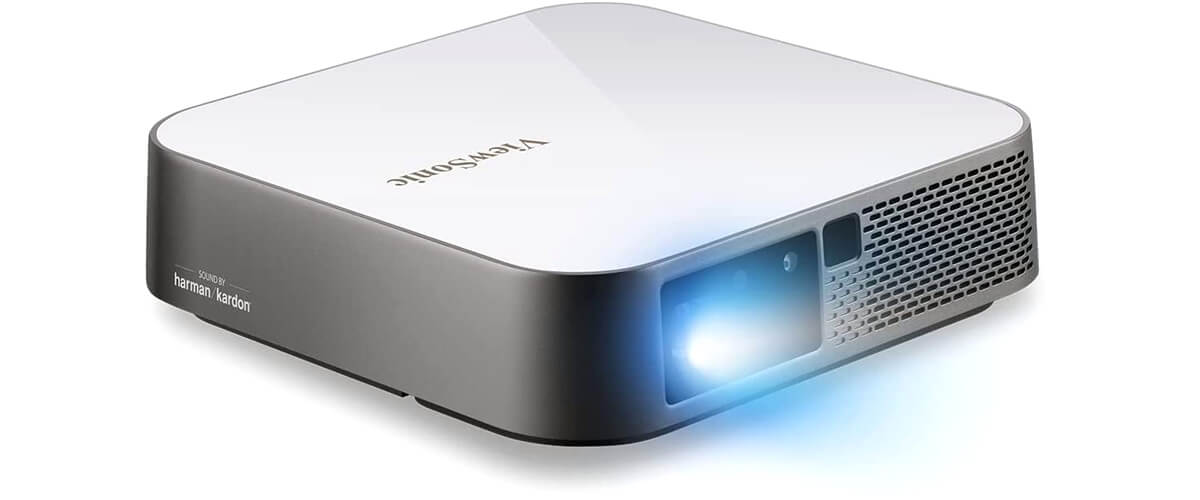 In M2e, ViewSonic has totally nailed the portability thing. Being 7.2 x 2.1 x 7.2 inches and weighing 2.2 lbs, you can throw this projector in a backpack or carry it with you without much trouble. A pleasant bonus – the device comes with a carrying case with compartments for cables and other accessories.
Regarding connectivity, there is an HDMI 1.4 port with HDCP 1.4. You can also connect devices via a USB 2.0 Type A and USB 3.1 Type C. For hooking external audio speakers, use a 3.5 mm jack or pair speakers over Bluetooth. Additionally, there is an SD slot for inserting the memory card (not all projectors have this option). Screen mirroring is also available in M2e, making it fairly easy to stream content from your phone, tablet, or laptop. There is also 5 Gz Wi-Fi for accessing the Internet wirelessly. To be honest, I didn't expect the capabilities of this " babe" to be so extensive!
Specs and features
How is it possible that M2e delivers instant entertainment in nearly any room? Let's take a closer look at the ViewSonic M2e features to get a better idea.
M2e by ViewSonic is a new breed of DLP LED projectors. Its full HD (1920×1080) resolution, 3,000,000:1 dynamic contrast ratio, and 125% Rec.709 color accuracy blend together to project incredibly vivid and lifelike images on a screen up to 100 inches.
With the LED light source, the projector emits 1,000 lumens. For a portable device, that's quite a number! Because of this, it can withstand some minor ambient light, but not too much. I would say it's better to be used in reasonably dark environments for a better experience. As for the number of working hours, the LED light source provides over 30,000 hours of operation. In addition, it consumes less than half the power of a typical LCD TV, lowering the ownership cost.
It's sad that the ViewSonic M2e doesn't have a built-in battery as most portable projectors do. Thus, it must be plugged into a power source to work.
This compact fellow comes with 3W Harman Kardon stereo speakers, which aren't bad at all. However, a soundbar will be a massive improvement.
ViewSonic offers a few apps, which you can download from the App Store and Play Store. In addition, there is a distance calculator and a setup app to help you customize your experience. You can also download a remote app to avoid the need for physical remote control.
The app selection in the M2e operating system is something that leaves much to be desired. For example, there is no official YouTube, only a sort of knock-off version, which is hardly optimized for a smooth experience. Other apps like MLBTV or Netflix are available, but they are hard to navigate and have some lags.
Projection and picture quality
In the right setting, the picture projected by M2e is sharp and detailed. However, as I have already mentioned, the projector needs a dark room for better performance. Therefore, turning off all the lights and scheduling movie-watching in the late evening greatly impacted the image quality. I also want to note that the large images were not clear enough and lacked brightness.
Motions are handled well by this projector. It keeps up with the fast pace of the image in most cases. Though dark scenes don't look great.
Installation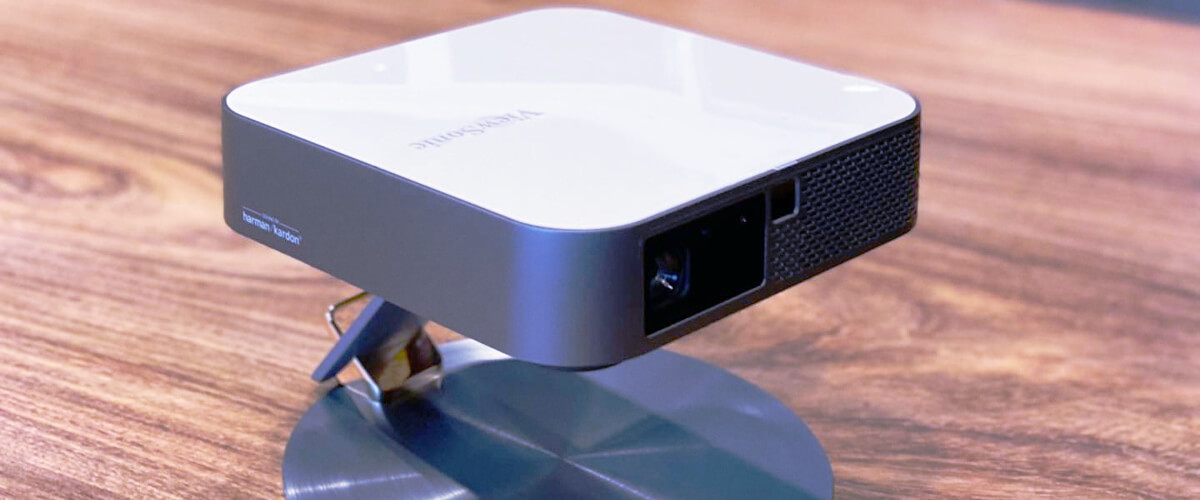 With the 1.21 throw ratio specified in ViewSonic M2e specifications, the projector requires a distance of 2 – 8.7 feet to project an image. As you turn on the device, it usually takes a while to start up the operating system and optimize all the apps.
The fixed optical and limited digital zoom (0.8x to 1x) make the placement tricky at home. Consider this aspect, please. But quick, effective auto keystone and focus correction proved to work well at short or moderate distances. I've had quite a few problems with focusing at a long distance. The only way to fix the projection angles is to use manual calibration.
Key specs
Display technology: DLP.
Resolution, px: 1920×1080.
Brightness, lumens: 1000.
Contrast: 3000000:1.
Throw distance, ft: 2.1-8.7.
Image size, inch.: 25-105.
Wi-Fi: yes.
Built-in speaker: yes.