The FANGOR F506 seems to be packed with appealing specifications and a variety of connectivity options. But as it always happens with new brands, people put a little trust into what the specs say and want to ensure the product is not a scam. That's why I am here. I have already taken the F506 projector for a test, and I will gladly share my experience with you in this FANGOR F506 review. So let's dive into it.
Build quality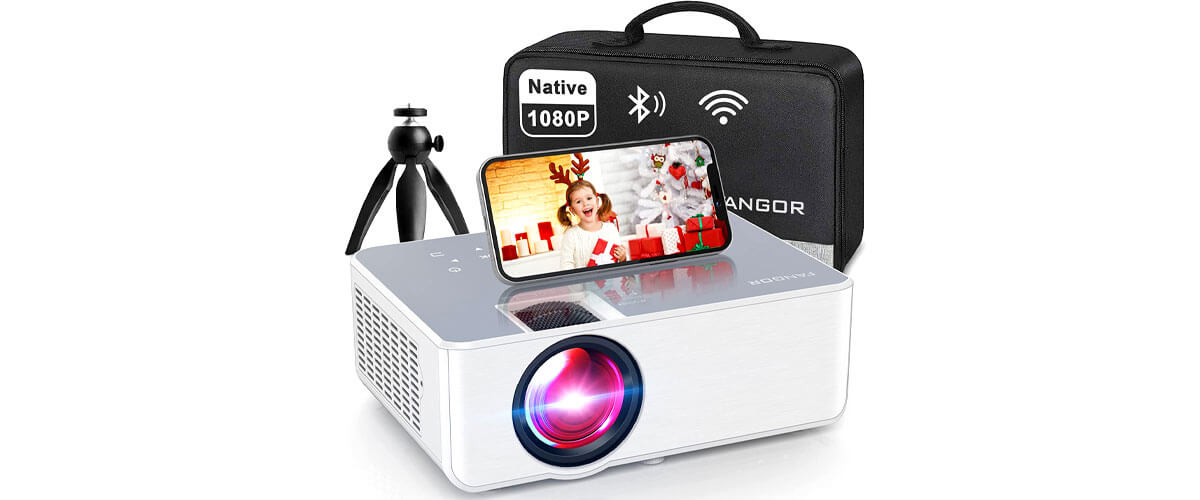 The FANGOR F506 is a good choice for daily entertainment as it is pretty compact and portable. So whether you want to arrange a cinema night in the living room or somewhere else, this little fellow will give you the freedom to go wherever you want. It measures 9.25 x 6.51 x 3.26 inches and weighs 2.80 lbs, so moving it around is nothing.
The whole construction is made of plastic. It is far from feeling sturdy, but I guess you won't be throwing it around. If you treat the projector with care, its casing will remain unbroken.
The connectivity options are similar to the ones you will find in high-end projectors. Apart from Wi-Fi and Bluetooth for wireless connection, there are also three HDMI and two USB ports. The FANGOR F506 also has AV and VGA ports, 3.5mm audio, and Micro SD ports.
Specs and features
There are multiple great FANGOR F506 features. One of them is a native 1080p resolution, which results in a full 1920×1080 picture. The device supports 4K, 1080p, 1080i, 720p, 576i, 480p, and 480i multimedia content resolutions. Note that even though it can play 4K, it won't be true 4K – the projector will downgrade the image.
As this is a LED-based projector, its bulb will last up to about 65,000 hours. Thanks to the 10,000:1 dynamic contrast ratio, the image gets depth and dimension as all blacks have a deep level and shadow details are clear. The device promises to deliver 5,000 lumens, but I really doubt that. The image loses its brightness and looks washed out as soon as some ambient light is out there.
The 5W built-in stereo speaker is pretty loud. Loud enough for a small room. It doesn't support Dolby, so do not expect to achieve a surround experience with this projector.
The FANGOR F506 doesn't have built-in apps, but you can connect to your phone or laptop via Wi-Fi to mirror the screen. Unfortunately, because of copyright limitations, you can't stream content from Netflix, Hulu, Amazon Prime, and other platforms directly from your phone. But you can use a TV stick or Roku stick to watch content from Netflix, Hulu, and similar streaming services.
Projection and picture quality
The image quality is average with the FANGOR F506 – it is neither astonishingly fascinating nor poor. Because of the native 1080p resolution, I was able to see pretty a lot of details – textures, hair, and other tiny objects. However, the brightness disappointed me – I expected that it would withstand ambient light and deliver a crisp image even in daylight. It didn't.
Also, I noticed that the projector has to be straight in front of the screen to have a clear image. If you place it off-center, you may have issues with the quality of the projection.
Installation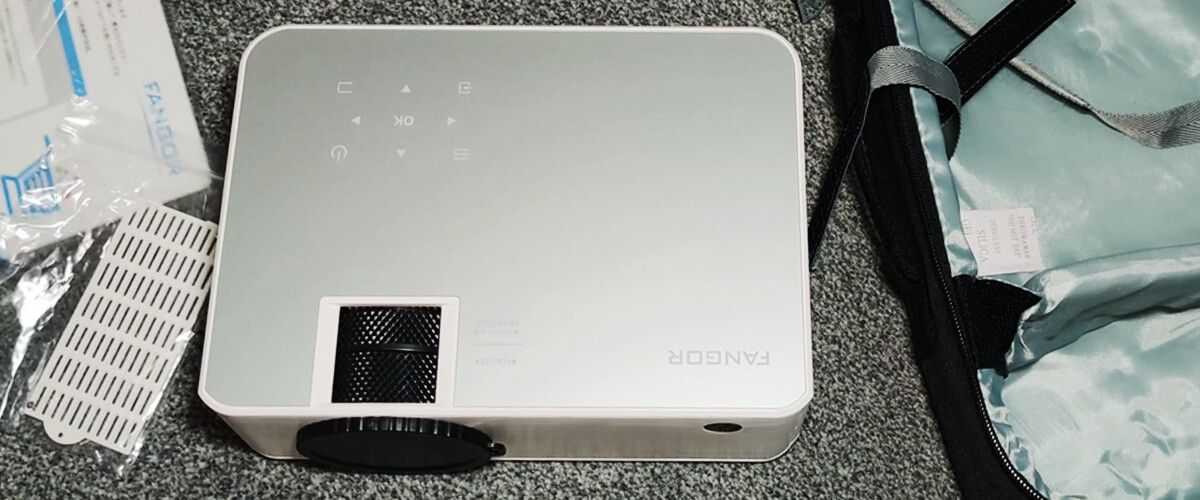 The FANGOR F506 specifications say that the projector can display a maximum 230-inch image. Though the recommended size is 30-160 inches. And that's understandable – it is not bright enough to project a larger image.
The keystone correction is fine, but only unless you need to make minor adjustments – it doesn't work too far. Also, you can focus on only the part of the screen, not the whole thing. That is why I recommend moving the projector by hand to find the right place for the device. And only then mount it. For more flexible use, you can use the included tripod.
Key specs
Display technology: DLP.
Resolution, px: 1920×1080.
Brightness, lumens: 5000.
Contrast: 10000:1.
Throw distance, ft: 6-15.
Image size, inch.: 30-230.
Wi-Fi: yes.
Built-in speaker: yes.