When you set up your home theater, you know how annoying cluttered wires can be. That is why Bluetooth projectors entered the market. Indeed, these devices eliminate the need for cables while offering the great advantage of wireless control. But how to choose a really worthwhile model that not only has wireless technology but also will provide a good image?
Our pick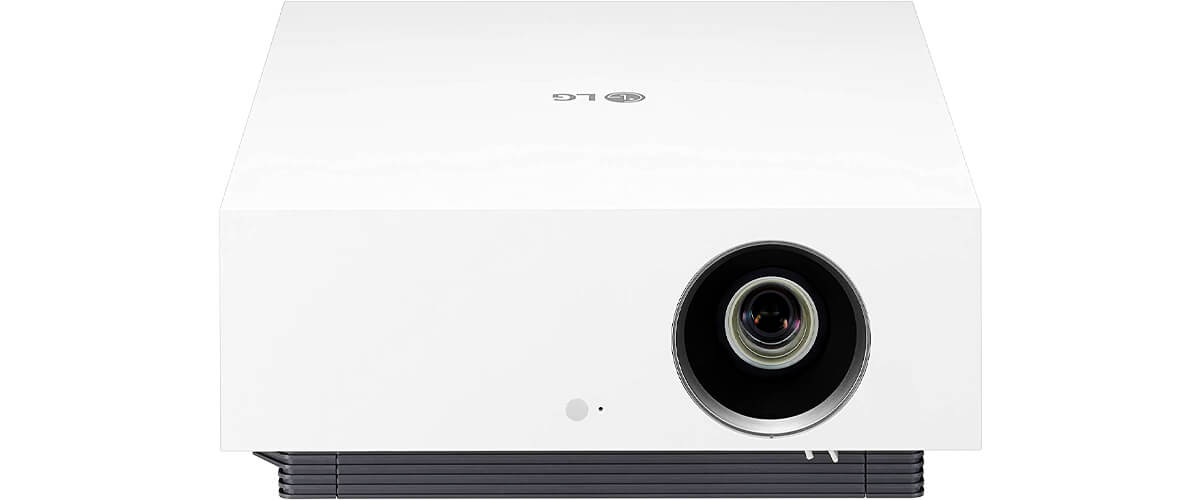 LG HU810PW
Best projector with Bluetooth
With 8.3 megapixels utilizing 4K UHD Laser technology, LG CineBeam delivers impeccable precision and detail up to a 300-inch screen, and a 2000000:1 contrast ratio Black level can express the deep black.
Read the full review
.
In this review, I will look at the best projectors with Bluetooth. You will get clues about what models you can trust. Besides, you will get recommendations on what features to look for when you pick such a projector.
Projector with Bluetooth comparison table
Name
Display technology
Resolution, px
Brightness, lumens
Contrast
Review
LG HU810PW

best overall

DLP
3840×2160
6480
2000000:1
Review
Epson EpiqVision Mini EF12
3LCD
1920×1080
1000
200000:1
Review
LG PF50KA
DLP
1920×1080
1440
100000:1
Review
What to look for in a Bluetooth projector
A Bluetooth projector is no different than any other projector. It still does the same job – projects an image from a source to a larger screen. The only peculiarity – it has Bluetooth technology for wireless connectivity. So, in fact, when picking a projector with Bluetooth, you should pay attention to the same characteristics you will appreciate in a regular projector.
Resolution
This parameter is responsible for how clear the projected image will be. The more pixels the device can display on the screen, the better the image will be. While the highest-rated Bluetooth projectors with 8K resolution (7680 x 4320 pixels) are already available on the market, they usually come at a high cost. So, 4K (3840 x 2160 pixels) is a more common choice for those who appreciate UHD content. 1080p (1920 x 1080 pixels) is also fine. 720p (1280 x 720 pixels) and 480p (854 x 480 pixels) are usually found in portable or extremely budget projectors.
Brightness
With proper brightness, you will be able to throw large images without losing their sharpness. Also, this characteristic can be a deciding factor when you plan to use the projector in different environments – dark or ambient light. On average, 2500 lumens are enough for dark rooms. Sometimes, you can keep some of the lights on for a mild light source. But to use the projector with ambient light more confidently, it is better to look at devices with 3,400 lumens and up.
Keystone and corner adjustment
Sometimes it is hard to find an optimal spot for a projector. As a result, the image can be off-centered, and the upper part may be larger than the bottom. Projectors have keystone and corner adjustment options to let you adjust the picture. Preferably, the auto ones, as all the adjustments will be conducted without the need for manual regulation. The manual keystone adjustment is a good choice if you do not move the projector around – such as if you've mounted it to the ceiling and regulated the image.
Best projector with Bluetooth reviews
My LG HU810PW review will introduce you to this interesting model, which, as the manufacturer claims, provides quality work in any home environment. After all, that's the first LG's serious attempt to market a laser-driven, long-throw projector. Has this brand succeeded in that? That's what you will learn now.
Build quality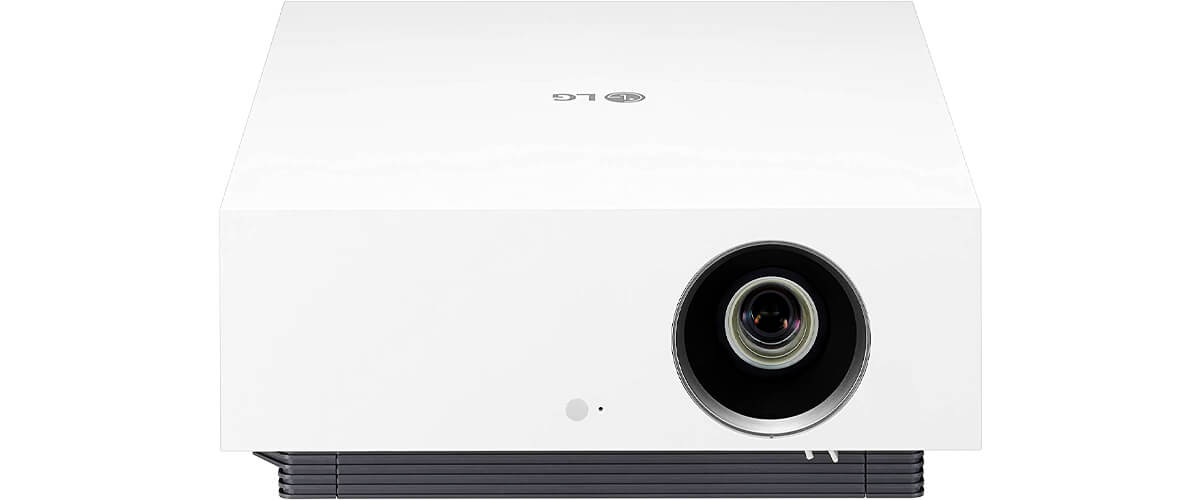 The first thing that catches your eye is the minimalistic design of the HU810PW. It's just a sleek plastic casing without any redundant details. Thus, it will perfectly fit any modern interior.
It's not lightweight - 24.3 lbs is a serious weight for a home projector. It also measures 13.3 x 16.1 x 5.7 inches (WxHxD). That's why you may want to mount the projector to the ceiling to avoid moving it around.
LG HU810PW is generous in terms of connectivity. There are three HDMI ports, one rated as 2.1 and supports ALLM and eARC/ARC. This way, you can connect this projector to a Dolby Atmos soundbar or AVR for an immersive sound. There are also two USB 2.0-A ports, an optical S/PDIF 1 output, and one RJ45.
Specs and features
The 4K DLP chip that powers the HU810PW projector reproduces remarkably lifelike colors and sharp images. With the 4K UHD (3840 x 2160) resolution and 2,000,000:1 contrast ratio, you will see every little detail on the screen, whether it's a light or dark scene. By the way, the contrast is adaptive, eliminating the need to manually set up this parameter according to the dark or light environment. This projector also supports HDR10, HLG, and HGiG formats.
This projector has around 10 picture modes for SDR, including Bright, Vivid, Standard, Expert (Bright Room), Expert (Dark Room), Filmmaker, Cinema, Game, Sports, and HDR Effect. In addition, you will find Standard, Cinema Home, Cinema, Filmmaker, Game, Brightest, and Vivid for HDR. Pretty impressive list, isn't it?
It is a dual laser projector with a light source life of up to 20,000 hours. And it's around 14 years if you plan to use it 4 hours a day. Moreover, you will see a remarkable picture on the screen because of two lasers (one blue and one red). They deliver 2700 ANSI lumens in the brightest picture mode.
LG HU810PW features two built-in 5W speakers. Even though they create a stereo system, it's very harsh and delivers a narrow sound. Luckily, you can connect external speakers via Bluetooth and even hook up Dolby Atmos.
This projector runs on LG smart TV, unlocking access to premium content providers like Apple TV, Amazon Prime Video, Disney+, YouTube, SHOWTIME, and more. However, it doesn't support Netflix, even when I enter my account via a browser. There are LG ThinQ, Google Assistant, and Amazon Alexa for voice control. Sharing the screen using AirPlay, Screen Share, and Bluetooth pairing is also pleasing.
Projection and picture quality
LG HU810PW impressed me in the dark room with a sharp and bright image. The contrast was fine, revealing the depth and dimensionality many projectors miss.
With a light on, the projector performed pretty well in an Expert (Bright Room) mode out of the box. So, it delivered more than enough brightness to stand up well to my light sources. However, white colors leaned to blue with ambient light. Besides, this mode was affected by oversaturation on newscasts, and contrast was slightly washed out. Yet, a decent ALR screen will help overcome these minor issues.
Installation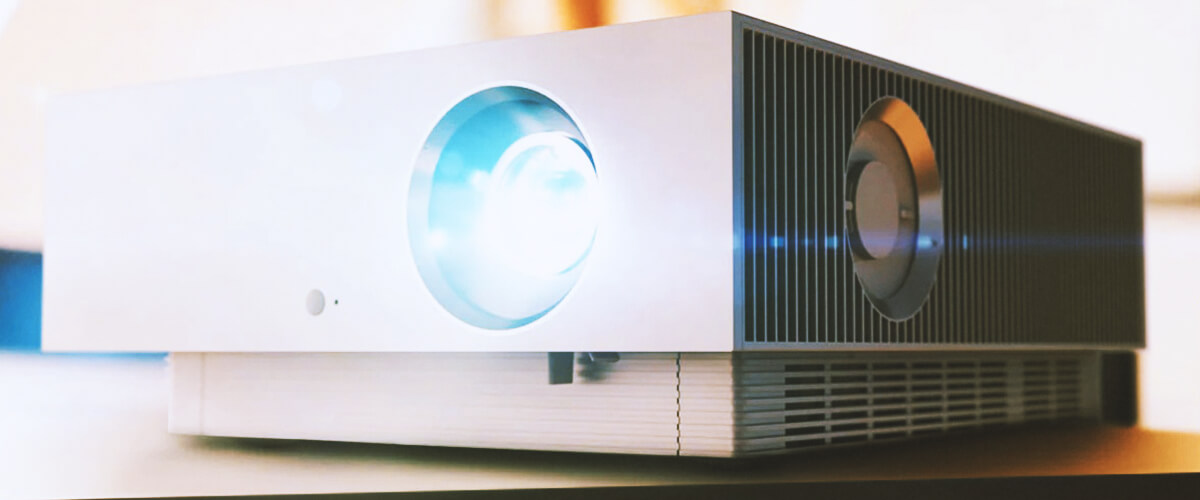 As this is a long-throw projector, you can achieve a 40-inch image from a distance of 5.9 ft. Considering the 1.3 - 2.08 throw ratio, the maximum image size, 300 inches, will require more space between the projector's lens and the screen.
According to LG HU810PW specifications, there is a manual focus and a 1.6x optical zoom. You will also find a vertical and horizontal lens shift and vertical keystone correction. These controls are manual, which keeps the projector's cost down. At the same time, they make the installation more complicated, but it's not so hard in the right hands.
Key specs
Display technology: DLP.
Resolution, px: 3840x2160.
Brightness, lumens: 6480.
Contrast: 2000000:1.
Throw distance, ft: 5.9-22.6.
Image size, inch.: 40-300.
Wi-Fi: yes.
Built-in speaker: yes.
Considering the LG HU810PW projector for home entertainment, you should know that it is a perfect choice for multiple objective reasons. Stylish and ergonomic design, excellent image quality, easy setup, and operation make it the best Bluetooth projector out there. Add a smooth connection via Bluetooth, and you will immediately fall in love with this device.
Epson EpiqVision Mini EF12
Nearly every mini projector has two major downsides, which stem from the need to yield to the needs of portability - image and sound. That is why those enthusiasts who have been looking for a projector presenting a good compromise between the size, image, and audio quality are glad to welcome a new product by Epson on the market. In my Epson EpiqVision Mini EF12 review, we'll see if this model is a worthy option for purchase.
Build quality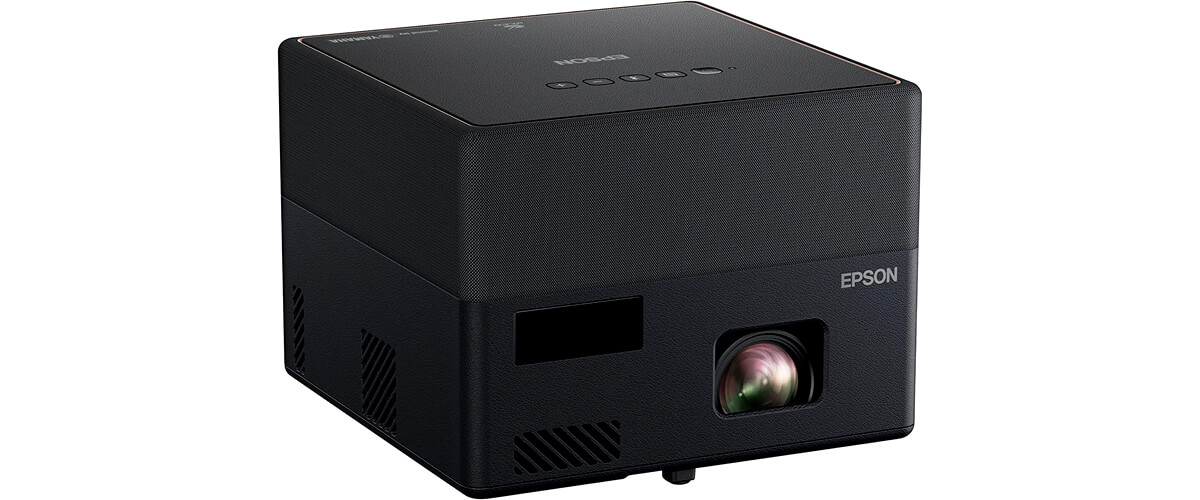 Upon unboxing, you will see a projector with a cube-like design. It looks unusual compared with most projectors on the market, but this feature makes it stand out. Weighing 4.7 pounds and measuring 6.9 x 6.9 x 5 inches, it is small enough to find a cozy place in your living room or any other spot in your home. Also, it will be fine to carry it with you too when you visit your friend, arrange a backyard cinema night, or plan any activity outside your place.
Epson EpiqVision Mini EF12 features two HDMI ports (one with ARC), a USB-A port, and stereo audio out. These ports are located on the side, but I would mind having them from the rear to avoid cables from being sprouted from the side.
Specs and features
The projection system is a 3LCD laser setup, which carries a lot of benefits. It outputs 1,000 lumens (for a portable projector, that's impressive) with a contrast ratio of 200,000:1, resulting in a sharp image. Though, I recommend using Mini EF12 in a dark room to achieve the most accurate color reproduction and image sharpness on a 150-inch screen. What impressed me is that this unit supports HDR10 and HLG color spaces. The native resolution of this projector is 1920 x 1080, but it can accept 4K content as well.
As this is a laser projector, you can't replace the light source. However, according to Epson EpiqVision Mini EF12 specifications, the device delivers 20,000 hours of operation in Normal mode without any maintenance.
Another prominent feature of this projector is the built-in Yamaha stereo sound system. The audio output is pretty good with enough basses and highs that are not strained. Connecting an advanced stereo or surround system will give you a more immersive experience as you watch movies or play games.
Moreover, this compact device has all the advantages of a smart TV. You can download any streaming application to enjoy premium content wherever you go. However, it is not compatible with Netflix, which is a pity for the fans of their art. The availability of Chromecast may compensate for this flaw, as you will stream content from your phone or laptop directly to a larger screen.
Projection and picture quality
As there are several modes like Dynamic, Bright Cinema, Cinema, Natural, and Vivid, you can customize the watching experience based on the content type. It's better to experience the modes to determine which works better for you based on your environment and preferences. For me, the brightest Dynamic mode makes the image look unnatural, so I prefer other pre-set modes.
I found that a little scattered light washes out the image, so using this projector during the day or in a bright room would not be the right thing to do. Also, while watching movies, I was disappointed with the dark scenes because they lacked shadows and detail.
Installation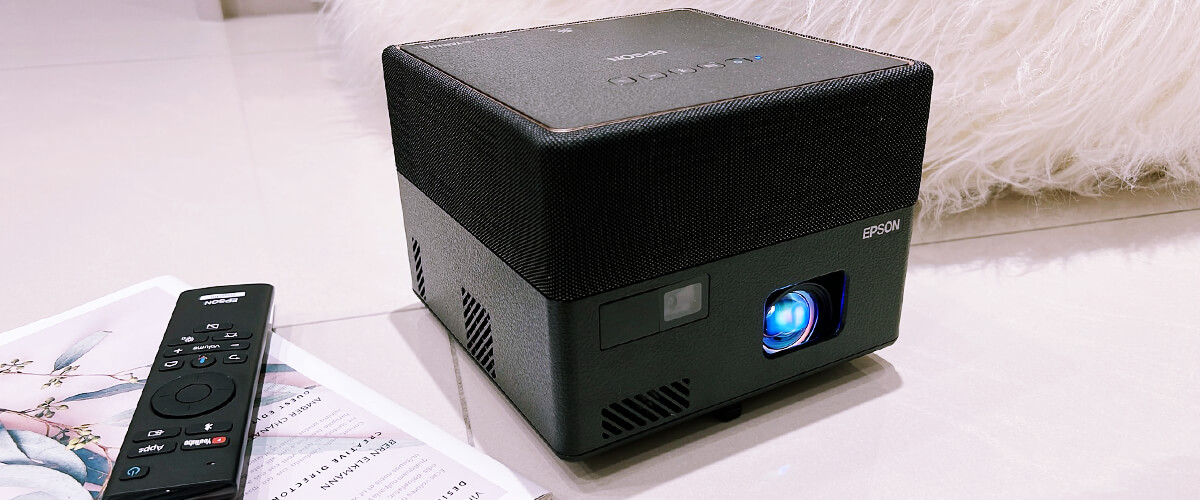 The Epson EpiqVision Mini EF12 has a throw ratio of 1:1. For the image size of 100 inches, the projector should be at least 7 feet away from the screen.
Setting up Epson EpiqVision Mini EF12 for work can be a challenge. As you start, the device projects fuzzy green dots on the screen. That's how it autofocuses. Adjusting the focus can be tedious, manually matching every image corner to the screen. You will do the drill many times if you move the projector around. The ability to zoom the image is also lacking. Luckily, there is auto vertical and horizontal keystone correction, adding some convenience to the installation process.
Key specs
Display technology: 3LCD.
Resolution, px: 1920x1080.
Brightness, lumens: 1000.
Contrast: 200000:1.
Throw distance, ft: 2.1-7.3.
Image size, inch.: 30-150.
Wi-Fi: yes.
Built-in speaker: yes.
This little guy will definitely impress you when put in line with other portable projectors with wireless connectivity. Epson EpiqVision Mini EF12 is a reasonable compromise between size and quality.
LG PF50KA
My LG PF50KA review introduces you to a smart portable home theater projector from the renowned LG. This device can really open up the realm of immersive video content available in Full HD resolution on a wide screen. Let's take a closer look at the PF50KA and test it a bit.
Build quality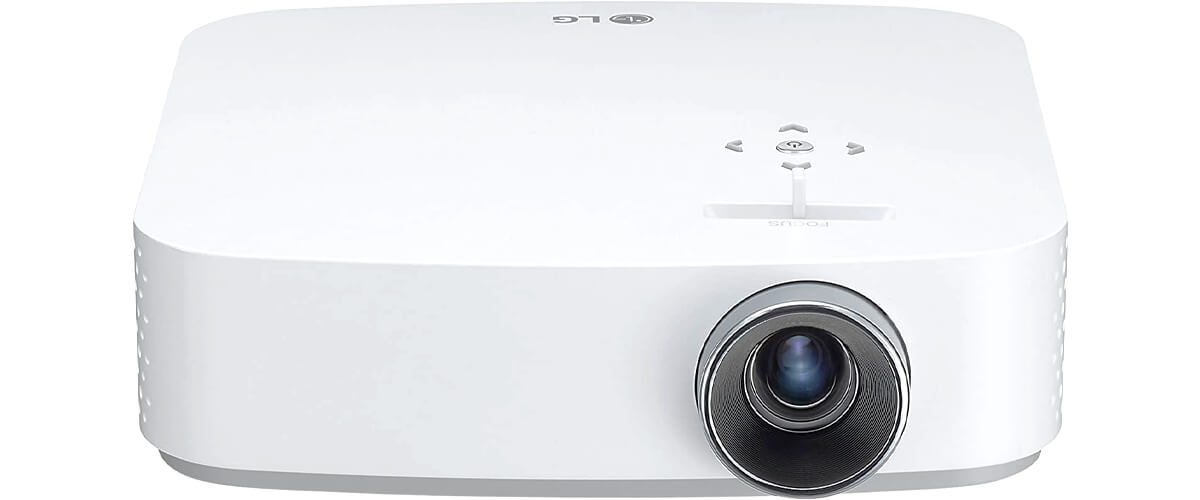 From the perspective of build quality, LG PF50KA is a well-made projector that feels sturdy. It is made of plastic, though durable. It is neither flimsy nor creaky, making a positive first impression.
Measuring 6.7 x 1.9 x 6.7 inches and having 2.1 lbs, it's indeed compact. You can fit it in your living room without being concerned about placement. Such dimensions allow you not only to place it in any room of your home but also to take it outdoors or to the home cinema session with friends, etc.
You can use two HDMI ports to connect different content sources for smooth video and audio transmission. There is also one USB-C and a USB-A 2.0. You will also find a digital TV tuner inside for hooking a digital antenna for local TV shows. Or attach external speakers to the 3.5 mm port for a louder sound. Wireless connectivity options are also present in this device.
Specs and features
This LG model provides true 1080p high-definition sharpness regardless of the compact size. It has two aspect ratio options: 16:9 and 4:3, for a versatile widescreen experience. The DLP chip technology and 100,000:1 contrast ratio altogether bring a lifelike image on a 100-inch screen.
The LG PF50KA features whopping 600 lumens. Of course, these parameters may not be sufficient for reproducing a razor-crisp image in a bright room. Yet, this is more than enough for dark environments and the moderately-sized image. Moreover, the powerful LED lamp will last up to 30,000 hours, sparing you from the headache of frequent lamp replacement.
Smart TV is a pleasant bonus in this projector. Thus, you can browse the library of apps available for download and use ones for streaming premium content. For example, you can use Netflix, Hulu, YouTube, and UFC.TV, and more, or access to other apps from a built-in browser. Moreover, you are free to stream content wirelessly from DLNA and Miracast supporting devices.
Two 1W + 1W speakers build a stereo system. However, they can not be satisfying in terms of output power, so you can hook a sound bar or other speakers. The option of pairing the projector with wireless speakers is also available.
Projection and picture quality
I am impressed with the dynamic contrast, vivid colors, and correct tones LG PF50KA reproduces. Brightness is also on the good side of this projector model. Even in low-light settings in a room with ambient light, the image is still good enough. Yet, the picture is not that great when the sun's rays go directly into the screen, though pretty much watchable. So, a well-lit room is not an optimal environment for PF50KA. Instead, you should consider a completely dark room to get the utmost viewing experience.
Videos in 720p resolution are slightly out of focus and tend to be blurred. On the other hand, 1080p content is clear and crisp. Distant objects are easy to see, and textures are well-pronounced.
Installation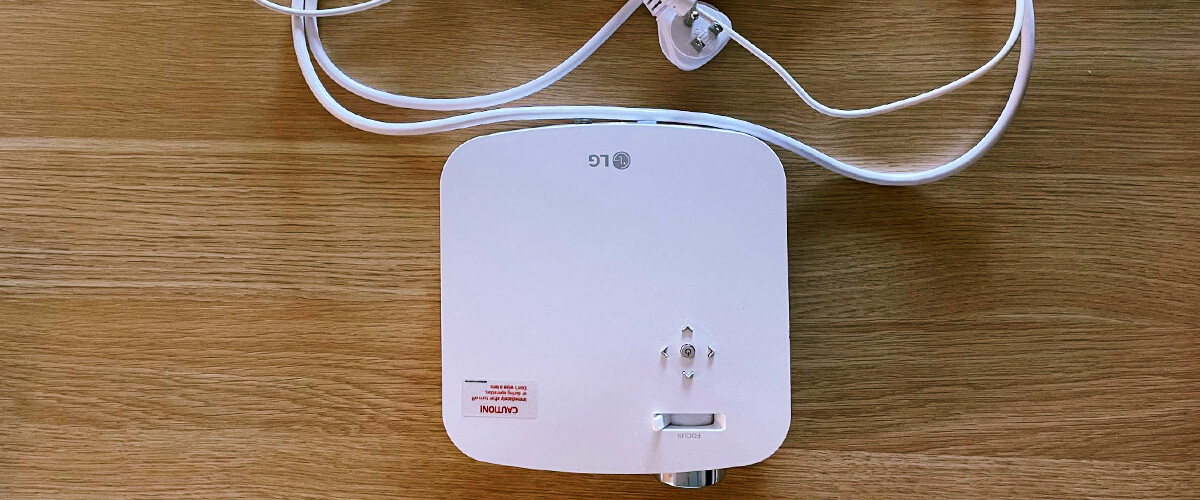 As you place the LG PF50KA projector in the desired spot and turn it on, you will have to adjust the focus and keystone settings. In case the image is blurry, the focus will fix that. Zoom is fixed, so there is nothing you can do to increase or decrease the image size but to move the device physically. There is only vertical keystone correction, though it works automatically by default. You can turn it off if you do not want to use this feature.
The maximum image size you will obtain with this projector is 100 inches. The throw ratio is optimal - 1.4. Based on LG PF50KA specifications, you've got to place PF50KA at a distance of 4.1 feet for a 40-inch picture.
Key specs
Display technology: DLP.
Resolution, px: 1920x1080.
Brightness, lumens: 1440.
Contrast: 100000:1.
Throw distance, ft: 4.1.
Image size, inch.: 25-100.
Wi-Fi: yes.
Built-in speaker: yes.
Everything you may want to have in a home projector is available in LG PF50KA. Smart TV for effortless content streaming? – Yes! Auto keystone correction for quick image adjustment? – Yes! HDMI and USB ports? – Yes! The list of features of LG PF50KA may go on, but one thing is clear – it won't disappoint you.
FAQ
Is it worth having a portable projector?
Before you consider buying a portable projector, I recommend weighing its pros and cons. Here is a good article, "
Is it worth having a portable projector?
" that will provide you with a decent amount of information on this matter. The quick answer is – it depends. Suppose you can tolerate an average image quality but would rather enjoy the unit's portability (so you can take it anywhere you go). In that case, a portable projector is a good choice for you.
Do projectors use a lot of electricity?
It all depends on the type of projector you use. For example, LCD and laser projectors tend to be more energy-efficient than LED models or battery-powered projectors. To get a better idea of how much power the projector you use or are going to buy consumes, check out the manual. This information is going to be specified there. But generally, a standard projector will use anywhere from 150-180 watts per hour. Some models may consume from 300 to 800 watts.
How long do projectors last?
Here is a thing to understand – a projector can last a lifetime. But the projector's source of light (bulb) may fail. Usually, manufacturers provide information on how long this or that model will work without the light source replacement. To give you a rough understanding, here are the figures. Projectors with halide bulbs last for around 3,000 hours. LED bulbs give the projector 30,000 – 60,000 hours of operation.
Is the projector good for daily use?
If you would like to use a projector just to create background noise as you cook, do the cleaning, or do other stuff, then it is not a good idea to use a projector daily. First, you wear out the bulb. Second, the electricity consumption may be higher. Also, some projectors are not suitable for daytime use because of their brightness. But it would be a great solution if you want to buy a projector for an everyday evening viewing of your favorite TV shows or work!