Technology evolves, improving different facets of our lives by offering more advanced gadgets, including projectors. These days, you do not have to black out the room entirely or wait till night comes to enjoy a movie on a larger screen with the projector's help. Or you can hold a meeting in the office, share a presentation in a classroom, or entertain a little while you are vacating with a good movie in a hotel room, all in broad daylight. Yes, some projectors give you the luxury of using the projector in daylight. But some don't. So, how do you pick the best daylight projectors? That's what you will learn in this review.
Our pick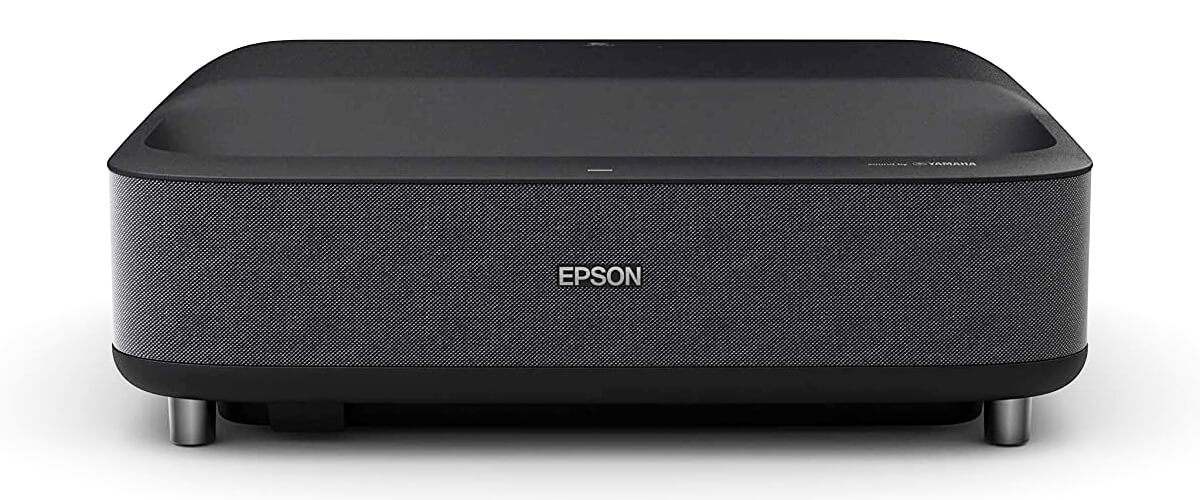 Epson Epiqvision ultra LS300
Best daylight projector
The Epson epiqvision ultra ls300 is a smart streaming laser projector with an advanced, ultra-short throw design and sound by Yamaha.
Read the full review
.
Daylight projector comparison table
Name
Display technology
Resolution, px
Brightness, lumens
Contrast
Review
Epson Epiqvision ultra LS300

best overall

3LCD
1920×1080
3600
1500000:1
Review
Optoma GT5600
DLP
1920×1080
3600
20000:1
Review
LG HU810PW
DLP
3840×2160
6480
2000000:1
Review
What to look for in a projector for daylight viewing?
In general terms, the daylight projector should be able to cut through a high level of surrounding light. So, some of its features should be more advanced compared to common devices.
Brightness level
First and foremost, brightness is the main thing you should carefully consider when buying a projector that works in daylight during the day. Here is a rule of thumb – the more lumens the device has, the better. Do not settle on a projector with less than 3,000 lumens. If you choose a unit with fewer lumens, you may not be satisfied with the projection you get – the image will be washed out. That's why you should look for models with a brightness of more than 3,500 lumens. This will guarantee that you will be able to project an image in daylight.
Resolution
Higher resolution always comes with a higher price tag. So, perhaps, you may not necessarily need an 8K projector. And my advice is to pay attention to the projectors with 4K or 1080p resolution. XGA (1024 x 768 pixels) resolution for classrooms or offices is more than satisfying. But if you are willing to spend a decent amount and get the highest quality, then, of course, consider options that support 8K.
Connectivity
There are different types of connections in a projector. Broadly speaking, you can find corded and wireless connectivity. To wirelessly connect a projector to other devices, they may have Bluetooth and Wi-Fi. Regarding corded connectivity, projectors will offer HDMI, USB, 3.5 mm audio, component, VGA, and other ports.
Best daylight projector reviews
Epson LS300 is a model that falls within the new EpiqVision Ultra range. It is the second product in the lineup by the resolution and advanced features available, so it may deliver plenty of satisfaction to those looking for a new screenless TV experience. Hence, if you set your sight on this product, my Epson Epiqvision ultra LS300 review is for you. I tested it in my living room and am thrilled to share my insights with you.
Build quality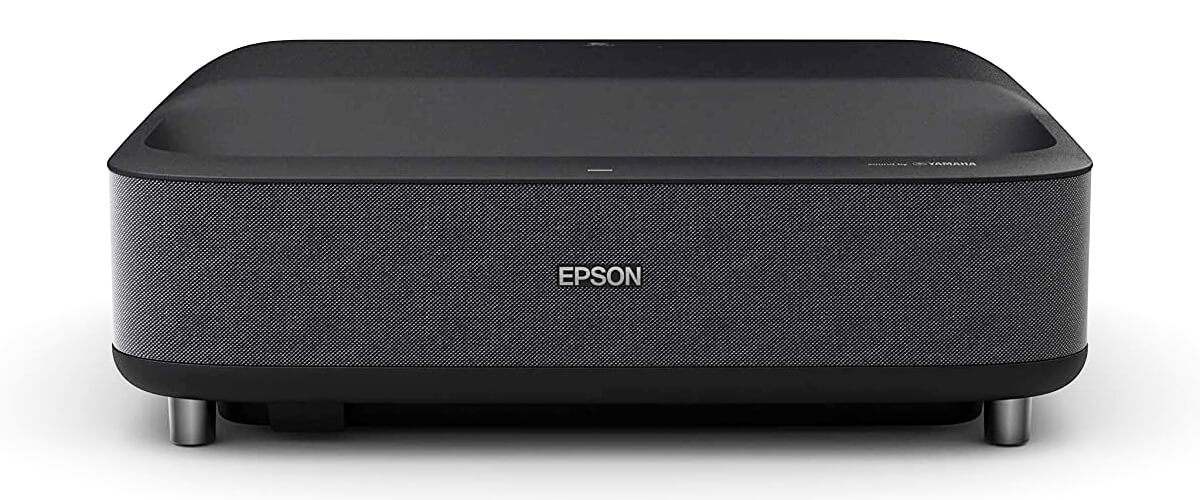 The sleek design catches your attention right away as you see the Epson Epiqvision ultra LS300. It doesn't feel like an ordinary projector. It may resemble a speaker if you look at it from a distance because it doesn't have a front lens. There are white and off-white versions of this device, so you can pick the ones that will fit your room style.
The Epson Epiqvision ultra LS300 specifications suggest that this unit measures 18.0 x 9.0 x 14.8 inches and weighs 20.9 lbs. Not the lightest one on the market for sure, but it won't spoil your experience at all. After all, you won't be moving it around too often.
There are two HDMI ports on the rear to connect your sound set-up or other video-audio sources. One of the ports supports ARC. You can also use USB-A, USB-B 2.0 inputs and an optical audio output. Though LS300 supports Wi-Fi, it doesn't have ports for an Ethernet connection.
Specs and features
There are many fascinating things about Epson Epiqvision ultra LS300, so let me uncover them one by one for you.
First, this projector doesn't have a lamp to project an image. Instead, it relies on a laser. Because of this and 3LCD technology, you will have a bright viewing experience as you watch movies, sports events, or play video games. It can also accept 4K content but note that it will downgrade it to a native 1920 x 1080 resolution.
As for other merits of laser, I would also like to stress the longer laser lifespan. This device will be emitting 3,600 lumens within 20,000 hours. That's a considerable amount of time, considering that an average lamp lasts only 1,500 - 2,000 hours. So, Epson Epiqvision ultra LS300 will work ten times longer than most other units.
Second, LS300 is supported by ultra-short throw laser array technology in charge of an exceptional level of brightness and great black density, even from a minimal distance.
Third, running on an Android 10 operating system, this Epson projector gives access to major streaming apps like Hulu, HBO, Disney+, YouTube, and more. However, the absence of Netflix is a little bit disturbing. But if you have Chromecast-compatible devices, you will have no issues streaming content directly from your gadgets.
Prominently, the Epson Epiqvision ultra LS300 features a custom-designed audiophile 2.1 speaker system. It works great out of the box, but you can mess it up with a few settings. Though I prefer using an optical out for hooking it to a surround receiver.
Projection and picture quality
Let me pin your attention to the fact that default settings won't deliver a fully enjoyable watching experience. They lower color warmth and increase contrast, making it similar to an ordinary TV. However, the advanced scene adaptive color correction feature is a good thing. It adjusts to the content on the screen to reproduce a natural and clear image. The motion processing is smooth in LS300, though the lack of motion settings may affect some rapidly paced scenes.
Installation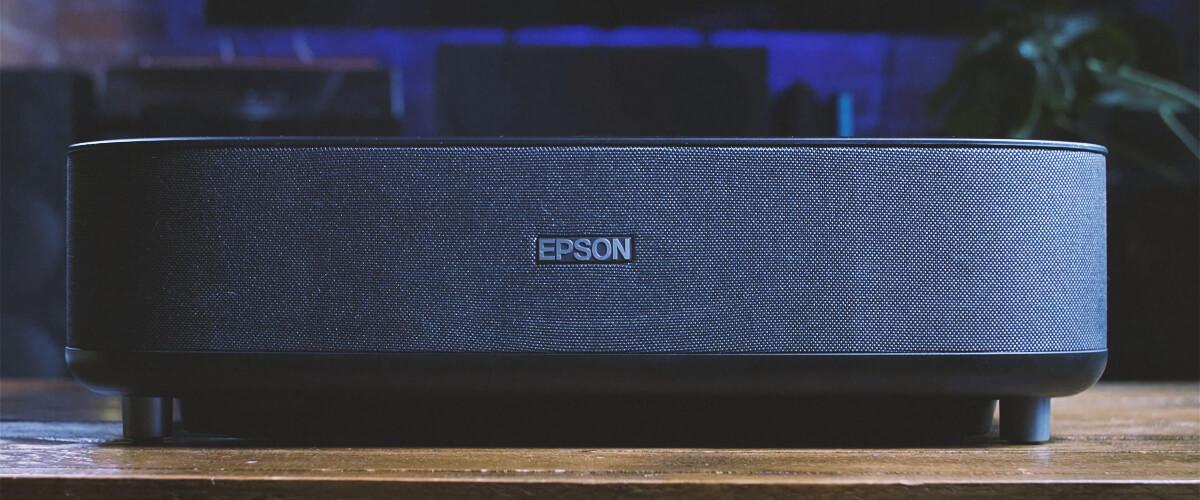 As an ultra-short-throw projector, it should be placed at a minimal distance to reproduce an image of up to 120 inches, at 1 to 15.2 inches, correspondingly from the projector to the screen.
With the vertical keystone alignment, you can refine the image placement if you notice some deviations because of the improper placement. In addition, there is a micro-lens array feature along with a focus control to help you adjust the image to the desired parameters.
Key specs
Display technology: 3LCD.
Resolution, px: 1920x1080.
Brightness, lumens: 3600.
Contrast: 1500000:1.
Throw distance, ft: 13.7-27.7.
Image size, inch.: 6.1-120.
Wi-Fi: yes.
Built-in speaker: yes.
Absolutely, the laser technology has given great performance to the Epson epiqvision ultra ls300. This projector truly deserves the status of the best projector for daylight viewing. By throwing an image with a great level of brightness and black density from a short distance during the day, this projector is indeed a device you may want to have for your daytime entertainment, business meetings, or classroom activities.
Optoma GT5600
As you look through the specs, you will immediately understand that Optoma GT5600 is a high-definition projector that will transform your entertaining experience. It has a lot to offer its future owners, and it also deserves my attention. In my Optoma GT5600 review, I went over this projector's main features, pros, and cons, so you know if it's right for you.
Build quality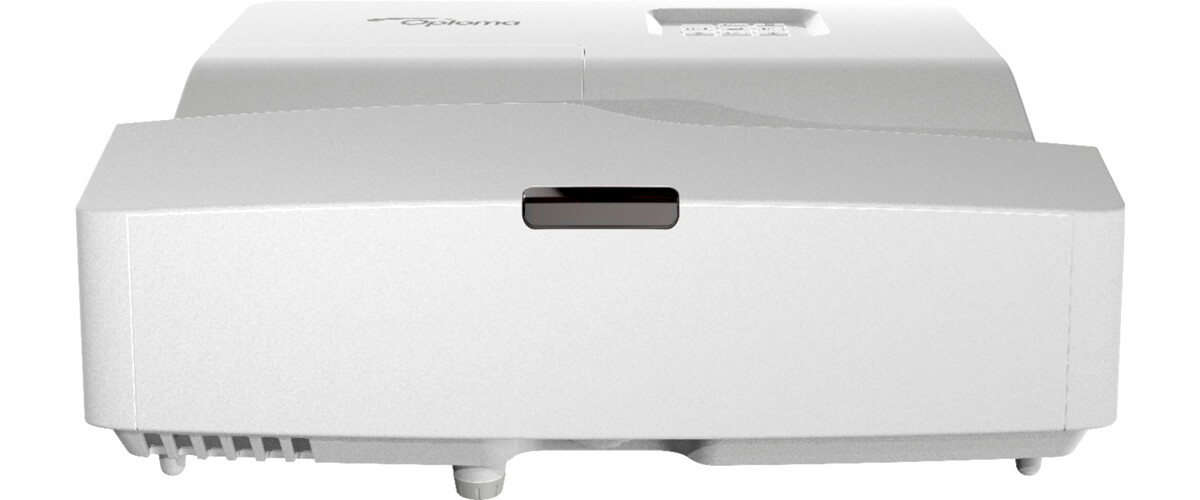 High-end projectors are not lightweight. That's because they incorporate technology and components that are not available in more affordable models. Optoma GT5600 is not an exception. This device is on the heavier side, making 8.6 lbs and being 13.5 x 15.08 x 4.41 inches. Yet, it will easily fit into the top of your TV shelf.
The projector's body is sturdy and well-made. It has a curved form, which adds to the unique look of the device. There are two HDMI inputs with 3D support, one VGA, a composite video, and Audio 3.5mm ports. You will also find two USB-As as well as RS232 and RJ45 controls.
Specs and features
This ultra short-throw DLP projector supports 1080p Full HD (1920x1080) resolution, not 4K. For most people, 1080p is more than enough for a pleasant movie night or gaming. It also supports 16:9 and 4:3 aspect ratios, though its native one is 16:9. 3D compatibility is another bonus of this model. Just hook up the projector to any 3D source like a 3D Blu-ray player, 3D broadcasting, or games console. Voila! It's done!
If you appreciate rich colors and dynamic videos, you will undoubtedly like Optoma GT5600. Its 20,000:1 contrast ratio and 3600 lumens of brightness will overcome ambient light. But remember, this is a lamp projector, so the light source's lifespan is not that long. For example, you will get 4,000 hours of operation in Bright, 12,000 hours in Dynamic, 10,000 in Eco, and 15,000 in Eco+ modes.
Among the Optoma GT5600 specifications, the ultra-short-throw capability is a crucial parameter for your consideration. Thanks to this, this projector is suitable for placement in small rooms, right under the screen.
The built-in 16W speaker is a disappointment. So, you may want to connect the projector to a sound system to truly enjoy the gaming or watching experience. Personally, that's what I would do.
You may use USB display screen mirroring to supersize your Android and iOS content. Or you can get an optional HDCast Pro connectivity for wireless broadcasting.
Projection and picture quality
Let me say at the outset that this is not the sort of projector you will use out of the box. Even with my experience, it took me quite a while to adjust the colors and brightness correctly before I reached the desired result. And I was not disappointed. The colors were vivid, the whites were bright, and the blacks were deep. I should mention that I had no problem using this projector in a well-lit room. The image was just fine. Although I must admit, it depends on the type of screen, and in some cases, I do not exclude that the image will be a little blurry.
Installation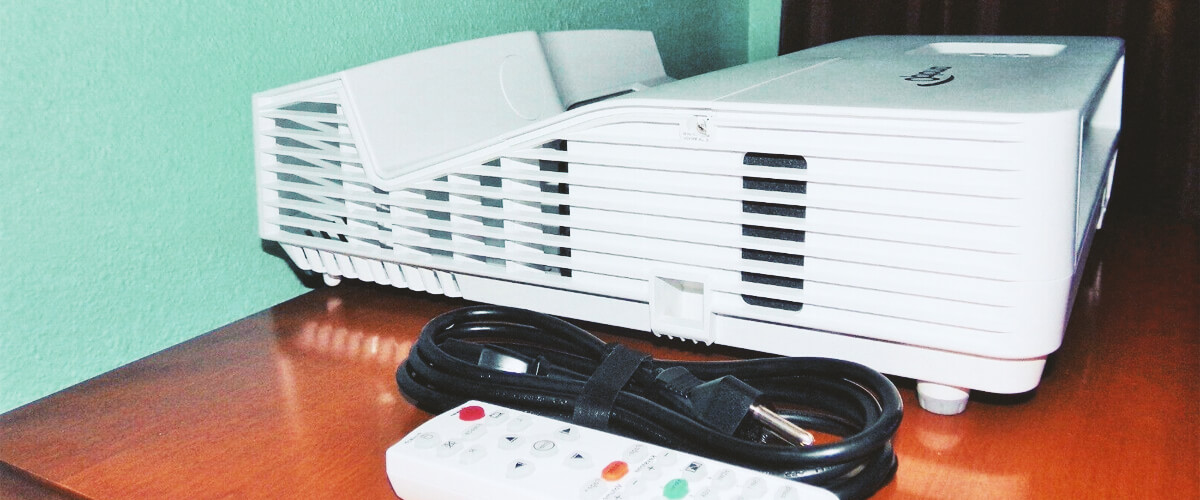 Optoma GT5600 won't bother you with hours of setup. With keystones in both the vertical and horizontal planes, you will achieve an image that is properly centered from all sides. This can be handy when the device is placed at an awkward angle. It doesn't have a zoom but comes with a 118% offset. Lens shift is unavailable as well.
With a 0.25:1 throw ratio, Optoma GT5600 features the capability to produce an 80 - 100-inch image at a distance of 6-9 inches.
Key specs
Display technology: DLP.
Resolution, px: 1920x1080.
Brightness, lumens: 3600.
Contrast: 20000:1.
Throw distance, ft: 4.4-16.9.
Image size, inch.: 80-100.
Wi-Fi: no.
Built-in speaker: yes.
Optoma GT5600 is not a random entry in my best daytime projector list. Even in a small room, this device will be in the spotlight – with lights turned on or off. It will perfectly do for rooms with big windows, even in the middle of the day, thanks to a high level of brightness and contrast ratio.
LG HU810PW
My LG HU810PW review will introduce you to this interesting model, which, as the manufacturer claims, provides quality work in any home environment. After all, that's the first LG's serious attempt to market a laser-driven, long-throw projector. Has this brand succeeded in that? That's what you will learn now.
Build quality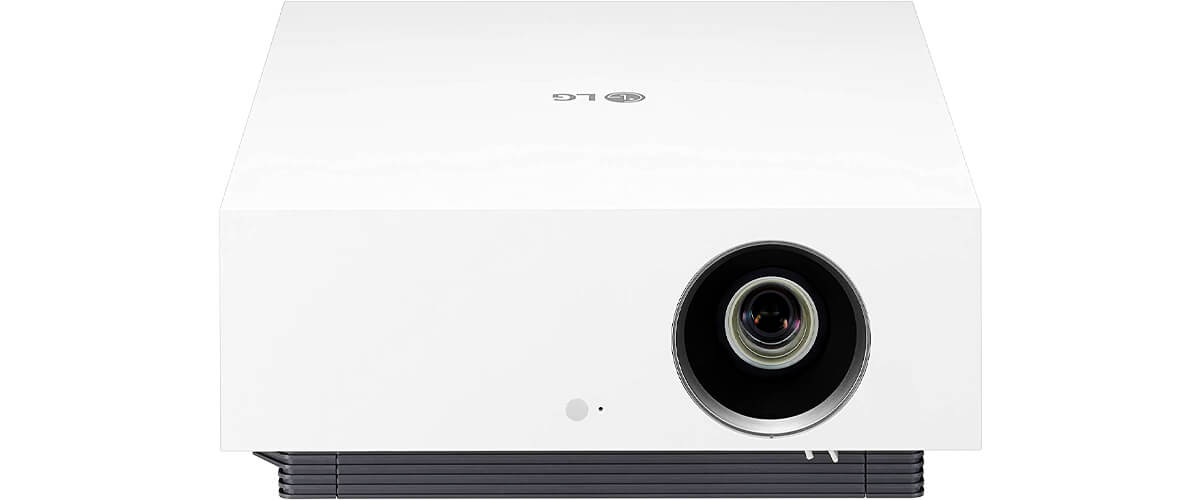 The first thing that catches your eye is the minimalistic design of the HU810PW. It's just a sleek plastic casing without any redundant details. Thus, it will perfectly fit any modern interior.
It's not lightweight - 24.3 lbs is a serious weight for a home projector. It also measures 13.3 x 16.1 x 5.7 inches (WxHxD). That's why you may want to mount the projector to the ceiling to avoid moving it around.
LG HU810PW is generous in terms of connectivity. There are three HDMI ports, one rated as 2.1 and supports ALLM and eARC/ARC. This way, you can connect this projector to a Dolby Atmos soundbar or AVR for an immersive sound. There are also two USB 2.0-A ports, an optical S/PDIF 1 output, and one RJ45.
Specs and features
The 4K DLP chip that powers the HU810PW projector reproduces remarkably lifelike colors and sharp images. With the 4K UHD (3840 x 2160) resolution and 2,000,000:1 contrast ratio, you will see every little detail on the screen, whether it's a light or dark scene. By the way, the contrast is adaptive, eliminating the need to manually set up this parameter according to the dark or light environment. This projector also supports HDR10, HLG, and HGiG formats.
This projector has around 10 picture modes for SDR, including Bright, Vivid, Standard, Expert (Bright Room), Expert (Dark Room), Filmmaker, Cinema, Game, Sports, and HDR Effect. In addition, you will find Standard, Cinema Home, Cinema, Filmmaker, Game, Brightest, and Vivid for HDR. Pretty impressive list, isn't it?
It is a dual laser projector with a light source life of up to 20,000 hours. And it's around 14 years if you plan to use it 4 hours a day. Moreover, you will see a remarkable picture on the screen because of two lasers (one blue and one red). They deliver 2700 ANSI lumens in the brightest picture mode.
LG HU810PW features two built-in 5W speakers. Even though they create a stereo system, it's very harsh and delivers a narrow sound. Luckily, you can connect external speakers via Bluetooth and even hook up Dolby Atmos.
This projector runs on LG smart TV, unlocking access to premium content providers like Apple TV, Amazon Prime Video, Disney+, YouTube, SHOWTIME, and more. However, it doesn't support Netflix, even when I enter my account via a browser. There are LG ThinQ, Google Assistant, and Amazon Alexa for voice control. Sharing the screen using AirPlay, Screen Share, and Bluetooth pairing is also pleasing.
Projection and picture quality
LG HU810PW impressed me in the dark room with a sharp and bright image. The contrast was fine, revealing the depth and dimensionality many projectors miss.
With a light on, the projector performed pretty well in an Expert (Bright Room) mode out of the box. So, it delivered more than enough brightness to stand up well to my light sources. However, white colors leaned to blue with ambient light. Besides, this mode was affected by oversaturation on newscasts, and contrast was slightly washed out. Yet, a decent ALR screen will help overcome these minor issues.
Installation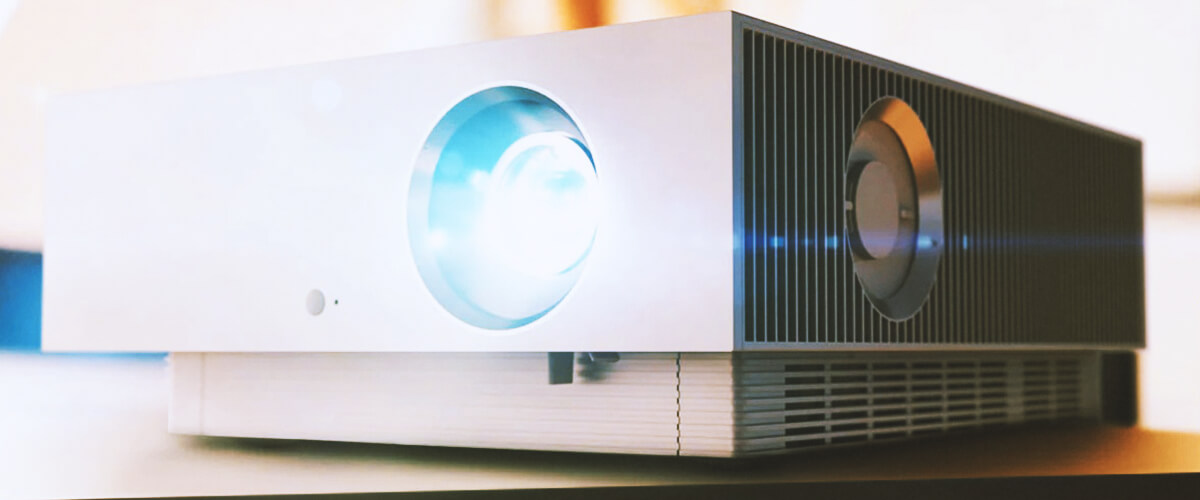 As this is a long-throw projector, you can achieve a 40-inch image from a distance of 5.9 ft. Considering the 1.3 - 2.08 throw ratio, the maximum image size, 300 inches, will require more space between the projector's lens and the screen.
According to LG HU810PW specifications, there is a manual focus and a 1.6x optical zoom. You will also find a vertical and horizontal lens shift and vertical keystone correction. These controls are manual, which keeps the projector's cost down. At the same time, they make the installation more complicated, but it's not so hard in the right hands.
Key specs
Display technology: DLP.
Resolution, px: 3840x2160.
Brightness, lumens: 6480.
Contrast: 2000000:1.
Throw distance, ft: 5.9-22.6.
Image size, inch.: 40-300.
Wi-Fi: yes.
Built-in speaker: yes.
If you hesitate about whether LG HU810PW will make the best projector in daylight, let's consider the facts. This projector with two lasers delivers enough light to throw a sharp image, even in a well-lit room. It does its job pretty well, so purchasing LG HU810PW will never be a disappointment.
FAQ
Can I use a daylight projector for business and office?
Absolutely! Actually, that's one of the common uses of these projector types. Because of their brightness, these devices are superior companions for marketers, HR specialists, managers, sales representatives, top managers, and just everyone who makes presentations in front of the public during the daytime. However, apart from brightness, you should consider other things when picking the right office projector. So, here are the
tips to choose projectors for business
.
Do I need to buy a separate projector that works in daylight?
No, if you buy the right projector right away. If you already own a projector that doesn't operate properly in daylight, you should probably replace the old one with a brighter device. But you do not necessarily have to keep both of them. A brighter projector will perform equally great (or even better) in a dark room.
In other cases, I recommend buying a bright projector at the outset. Sure, it may be more expensive than its dimmer counterparts. But think of the projector purchase strategically. You save time and money when you get one device that covers all your needs.
Are short throw projectors better for bright rooms?
Usually, yes. Short-throw projectors tend to perform better in bright rooms, and here is why. There is not as much space between the projector and the screen as in a long-throw device. They are placed right under the screen, so little to no light is scattered or defocused. Hence, they produce a clear and sharp image even in well-lit rooms.