Being an improved version of M1, ViewSonic M1+ has great features capable of bringing your movie-watching experience to a whole new level. This compact unit will deliver multimedia entertainment wherever you go. Whether you set up a home theater or consider arranging a movie night outdoors, this little fellow is suitable for these purposes. So, what's so great about this projector? I will cover this in my ViewSonic M1+ review.
Build quality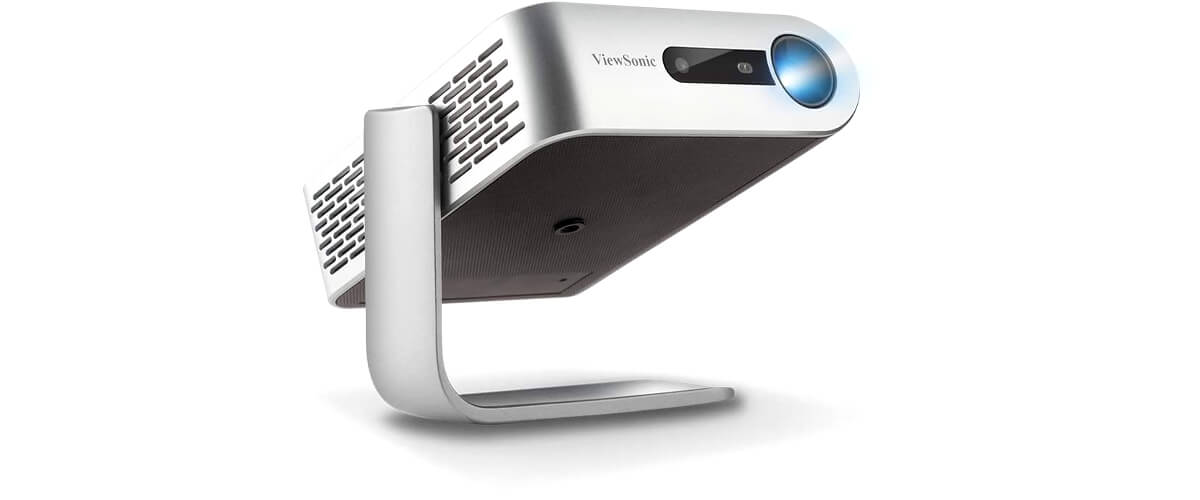 ViewSonic M1+ looks nothing like other projectors. Its unique feature is the availability of a smart stand, which enables a simple 360-degree setup. This way, you can set the projector at the desired angle for a sharp, neatly positioned image. The stand also covers the lens when it is closed.
The projector, along with the adjustment stand, is truly compact. These two components measure 5.9 x 4.9 x 1.5 inches and weigh 1.54 lbs.
Connectivity options are versatile in ViewSonic M1+. You can use an HDMI 1.4 port for hooking A/V sources. There are also USB-C and USB-A ports as well as an audio 3.5 mm output. Bluetooth speakers and Wi-FI connectivity options are also available in this model. All the ports are hidden under the cover, which is great for a portable device.
Specs and features
Let's take a closer look at ViewSonic M1+ specifications and see what it is good for.
So, the native resolution of M1+ is 854 x 480p, but it can replicate anything from VGA (640 x 480) to FullHD (1920 x 1080). Apparently, the resolution is on the lower side. Yet, for a battery-powered projector at this price, that's not something you should be disappointed with. What may give this device an upper hand is that it can throw a 100-inch image from a relatively small distance. So, it's a great unit for small home theater setups.
As for brightness, you can get 250 lumens derived from a built-in LED light source. Again, that's more than expected for a projector of this size. That is why it's better to plan your multimedia viewing sessions closer to the evening when the ambient light is minimal. In addition, the light source is going to last long – nearly 30,000 hours in normal mode.
The battery life of this projector is higher than average. It will last for around 6 hours, depending on the energy mode. Also, if you require a more prolonged operation, you can use a power bank to charge the projector's battery.
ViewSonic M1+ offers three modes: Cinema, Music, and User. You can adjust the settings according to your visual and audio preferences in the User mode.
This compact device comes with two Harman Kardon speakers built inside. They are surprisingly loud, with balanced mids and strong bass. However, highs get a bit cranky at higher volumes. But there is always an option for extending your audio experience by pairing the projector with Bluetooth speakers.
What I also like about ViewSonic M1+ is that it has a mobile app that turns my phone into a remote control. For this, you've got to ensure that both the projector and your phone are on the same network. The same app also offers a collection of streaming services to cater to your entertainment needs. Or you can mirror the phone screen for big-screen entertainment.
Projection and picture quality
The image quality is good for a portable device with an 854 x 480p resolution. It delivers an acceptable amount of detail for casual viewing, but not more. I admitted a lack of texture, though the colors are vivid. Instead of depicting light plays and rendering the range of hues, the projector just paints these subtitles in broad strokes, which may be a harsh issue for sophisticated movie aficionados. Once again, I want to draw your attention to the fact that M1+ will also struggle in brighter conditions, so it is more acceptable for dark rooms.
Installation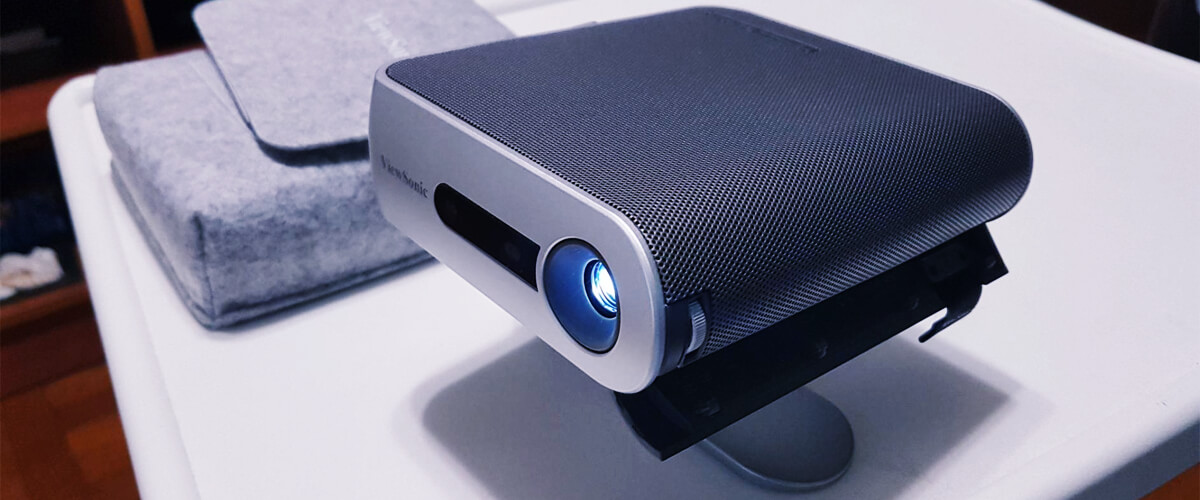 Easy installation is one of the ViewSonic M1+ features you will appreciate. Due to the 1.2 throw ratio, you can project an image of 24 – 100 inches from a distance of 2 – 8.7 feet. For an image of 38 inches, you will need at least 3 feet from the projector to the screen.
M1+ has a vertical keystone correction, automatically aligning the image as you turn the projector on. This device lacks zoom, so to increase or decrease the image size, you've got to physically move the projector around. The integrated smart stand is handy for finding the right angle for a neat picture reproduction.
Key specs
Display technology: DLP.
Resolution, px: 854×480.
Brightness, lumens: 250.
Contrast: 120000:1.
Throw distance, ft: 2-8.7.
Image size, inch.: 24-100.
Wi-Fi: yes.
Built-in speaker: yes.