Epson LS300 is a model that falls within the new EpiqVision Ultra range. It is the second product in the lineup by the resolution and advanced features available, so it may deliver plenty of satisfaction to those looking for a new screenless TV experience. Hence, if you set your sight on this product, my Epson Epiqvision ultra LS300 review is for you. I tested it in my living room and am thrilled to share my insights with you.
Build quality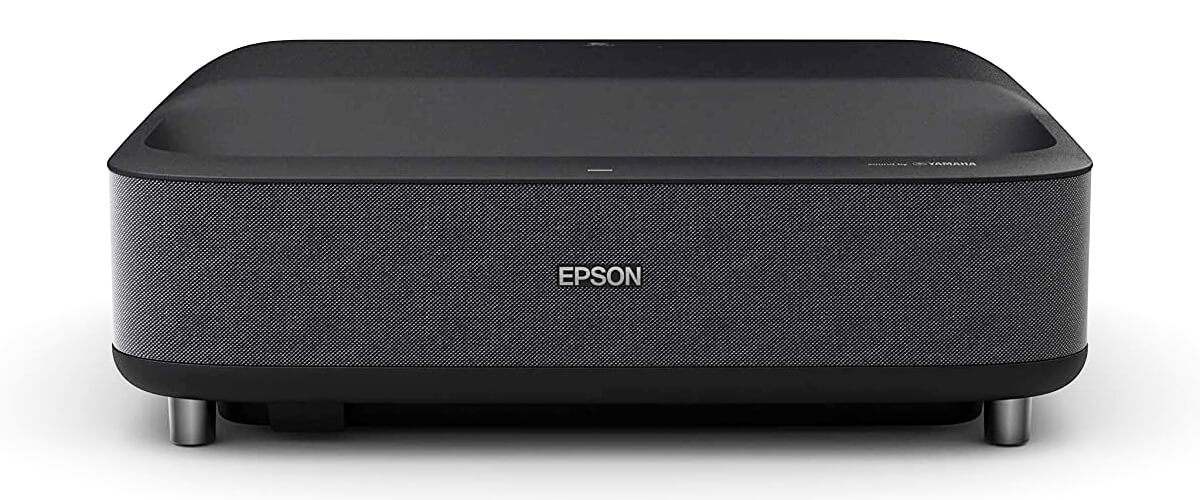 The sleek design catches your attention right away as you see the Epson Epiqvision ultra LS300. It doesn't feel like an ordinary projector. It may resemble a speaker if you look at it from a distance because it doesn't have a front lens. There are white and off-white versions of this device, so you can pick the ones that will fit your room style.
The Epson Epiqvision ultra LS300 specifications suggest that this unit measures 18.0 x 9.0 x 14.8 inches and weighs 20.9 lbs. Not the lightest one on the market for sure, but it won't spoil your experience at all. After all, you won't be moving it around too often.
There are two HDMI ports on the rear to connect your sound set-up or other video-audio sources. One of the ports supports ARC. You can also use USB-A, USB-B 2.0 inputs and an optical audio output. Though LS300 supports Wi-Fi, it doesn't have ports for an Ethernet connection.
Specs and features
There are many fascinating things about Epson Epiqvision ultra LS300, so let me uncover them one by one for you.
First, this projector doesn't have a lamp to project an image. Instead, it relies on a laser. Because of this and 3LCD technology, you will have a bright viewing experience as you watch movies, sports events, or play video games. It can also accept 4K content but note that it will downgrade it to a native 1920 x 1080 resolution.
As for other merits of laser, I would also like to stress the longer laser lifespan. This device will be emitting 3,600 lumens within 20,000 hours. That's a considerable amount of time, considering that an average lamp lasts only 1,500 – 2,000 hours. So, Epson Epiqvision ultra LS300 will work ten times longer than most other units.
Second, LS300 is supported by ultra-short throw laser array technology in charge of an exceptional level of brightness and great black density, even from a minimal distance.
Third, running on an Android 10 operating system, this Epson projector gives access to major streaming apps like Hulu, HBO, Disney+, YouTube, and more. However, the absence of Netflix is a little bit disturbing. But if you have Chromecast-compatible devices, you will have no issues streaming content directly from your gadgets.
Prominently, the Epson Epiqvision ultra LS300 features a custom-designed audiophile 2.1 speaker system. It works great out of the box, but you can mess it up with a few settings. Though I prefer using an optical out for hooking it to a surround receiver.
Projection and picture quality
Let me pin your attention to the fact that default settings won't deliver a fully enjoyable watching experience. They lower color warmth and increase contrast, making it similar to an ordinary TV. However, the advanced scene adaptive color correction feature is a good thing. It adjusts to the content on the screen to reproduce a natural and clear image. The motion processing is smooth in LS300, though the lack of motion settings may affect some rapidly paced scenes.
Installation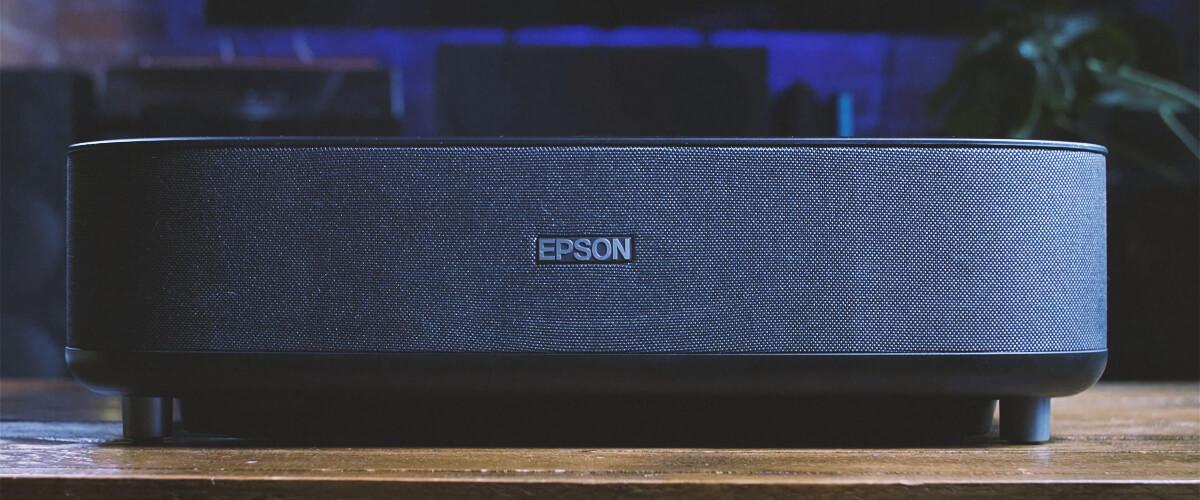 As an ultra-short-throw projector, it should be placed at a minimal distance to reproduce an image of up to 120 inches, at 1 to 15.2 inches, correspondingly from the projector to the screen.
With the vertical keystone alignment, you can refine the image placement if you notice some deviations because of the improper placement. In addition, there is a micro-lens array feature along with a focus control to help you adjust the image to the desired parameters.
Key specs
Display technology: 3LCD.
Resolution, px: 1920×1080.
Brightness, lumens: 3600.
Contrast: 1500000:1.
Throw distance, ft: 13.7-27.7.
Image size, inch.: 6.1-120.
Wi-Fi: yes.
Built-in speaker: yes.