My LG HU810PW review will introduce you to this interesting model, which, as the manufacturer claims, provides quality work in any home environment. After all, that's the first LG's serious attempt to market a laser-driven, long-throw projector. Has this brand succeeded in that? That's what you will learn now.
Build quality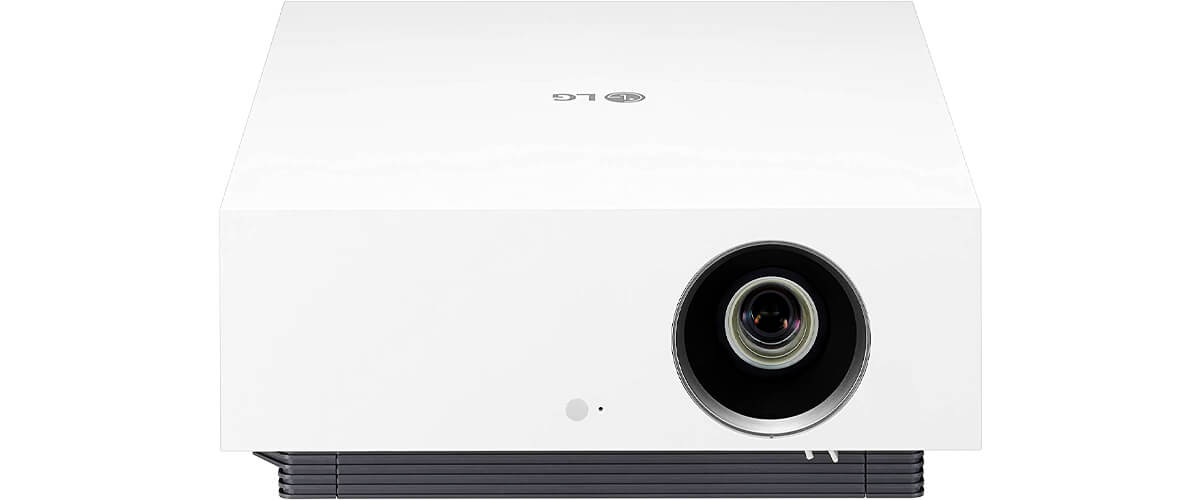 The first thing that catches your eye is the minimalistic design of the HU810PW. It's just a sleek plastic casing without any redundant details. Thus, it will perfectly fit any modern interior.
It's not lightweight – 24.3 lbs is a serious weight for a home projector. It also measures 13.3 x 16.1 x 5.7 inches (WxHxD). That's why you may want to mount the projector to the ceiling to avoid moving it around.
LG HU810PW is generous in terms of connectivity. There are three HDMI ports, one rated as 2.1 and supports ALLM and eARC/ARC. This way, you can connect this projector to a Dolby Atmos soundbar or AVR for an immersive sound. There are also two USB 2.0-A ports, an optical S/PDIF 1 output, and one RJ45.
Specs and features
The 4K DLP chip that powers the HU810PW projector reproduces remarkably lifelike colors and sharp images. With the 4K UHD (3840 x 2160) resolution and 2,000,000:1 contrast ratio, you will see every little detail on the screen, whether it's a light or dark scene. By the way, the contrast is adaptive, eliminating the need to manually set up this parameter according to the dark or light environment. This projector also supports HDR10, HLG, and HGiG formats.
This projector has around 10 picture modes for SDR, including Bright, Vivid, Standard, Expert (Bright Room), Expert (Dark Room), Filmmaker, Cinema, Game, Sports, and HDR Effect. In addition, you will find Standard, Cinema Home, Cinema, Filmmaker, Game, Brightest, and Vivid for HDR. Pretty impressive list, isn't it?
It is a dual laser projector with a light source life of up to 20,000 hours. And it's around 14 years if you plan to use it 4 hours a day. Moreover, you will see a remarkable picture on the screen because of two lasers (one blue and one red). They deliver 2700 ANSI lumens in the brightest picture mode.
LG HU810PW features two built-in 5W speakers. Even though they create a stereo system, it's very harsh and delivers a narrow sound. Luckily, you can connect external speakers via Bluetooth and even hook up Dolby Atmos.
This projector runs on LG smart TV, unlocking access to premium content providers like Apple TV, Amazon Prime Video, Disney+, YouTube, SHOWTIME, and more. However, it doesn't support Netflix, even when I enter my account via a browser. There are LG ThinQ, Google Assistant, and Amazon Alexa for voice control. Sharing the screen using AirPlay, Screen Share, and Bluetooth pairing is also pleasing.
Projection and picture quality
LG HU810PW impressed me in the dark room with a sharp and bright image. The contrast was fine, revealing the depth and dimensionality many projectors miss.
With a light on, the projector performed pretty well in an Expert (Bright Room) mode out of the box. So, it delivered more than enough brightness to stand up well to my light sources. However, white colors leaned to blue with ambient light. Besides, this mode was affected by oversaturation on newscasts, and contrast was slightly washed out. Yet, a decent ALR screen will help overcome these minor issues.
Installation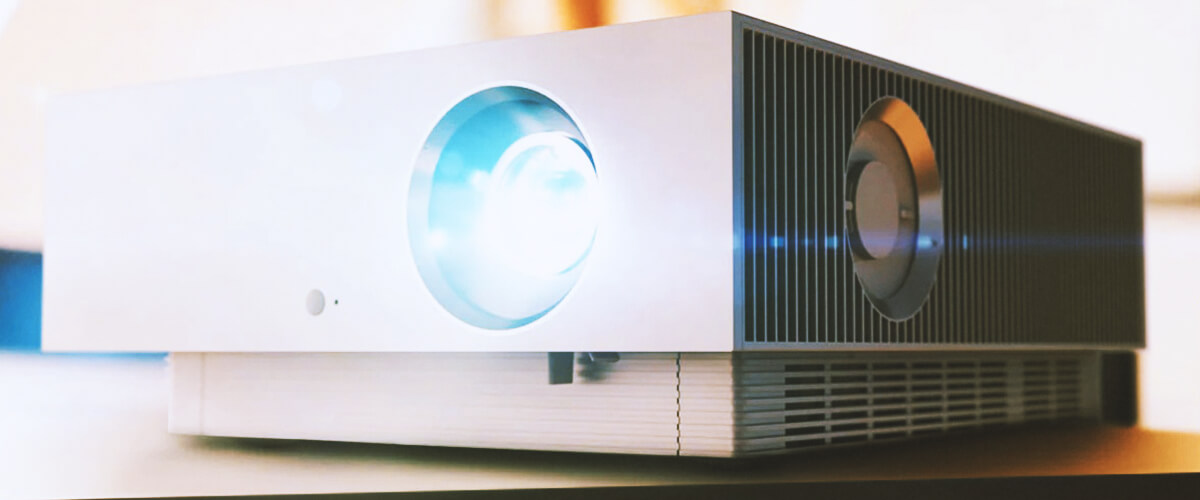 As this is a long-throw projector, you can achieve a 40-inch image from a distance of 5.9 ft. Considering the 1.3 – 2.08 throw ratio, the maximum image size, 300 inches, will require more space between the projector's lens and the screen.
According to LG HU810PW specifications, there is a manual focus and a 1.6x optical zoom. You will also find a vertical and horizontal lens shift and vertical keystone correction. These controls are manual, which keeps the projector's cost down. At the same time, they make the installation more complicated, but it's not so hard in the right hands.
Key specs
Display technology: DLP.
Resolution, px: 3840×2160.
Brightness, lumens: 6480.
Contrast: 2000000:1.
Throw distance, ft: 5.9-22.6.
Image size, inch.: 40-300.
Wi-Fi: yes.
Built-in speaker: yes.