My LG PF50KA review introduces you to a smart portable home theater projector from the renowned LG. This device can really open up the realm of immersive video content available in Full HD resolution on a wide screen. Let's take a closer look at the PF50KA and test it a bit.
Build quality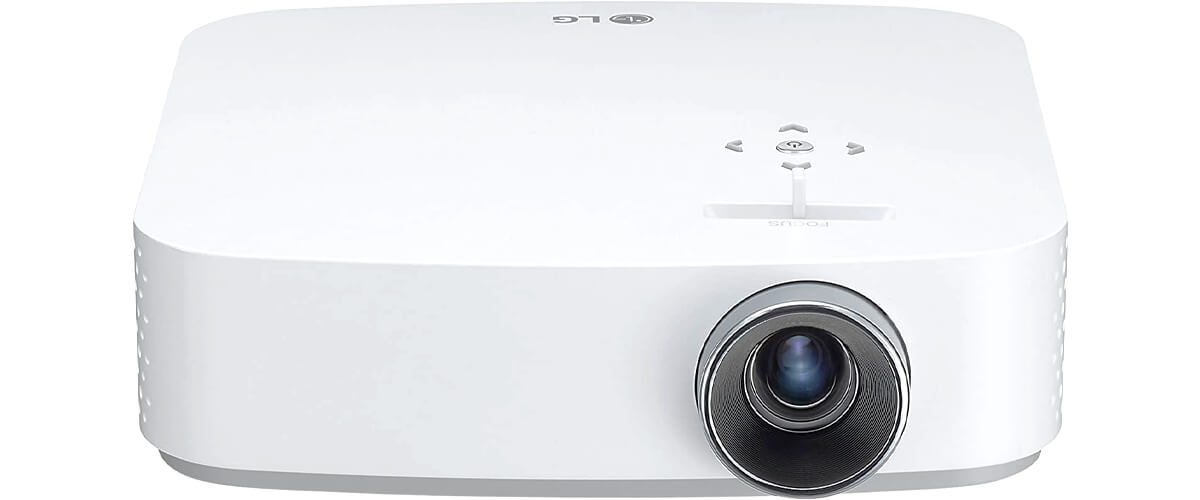 From the perspective of build quality, LG PF50KA is a well-made projector that feels sturdy. It is made of plastic, though durable. It is neither flimsy nor creaky, making a positive first impression.
Measuring 6.7 x 1.9 x 6.7 inches and having 2.1 lbs, it's indeed compact. You can fit it in your living room without being concerned about placement. Such dimensions allow you not only to place it in any room of your home but also to take it outdoors or to the home cinema session with friends, etc.
You can use two HDMI ports to connect different content sources for smooth video and audio transmission. There is also one USB-C and a USB-A 2.0. You will also find a digital TV tuner inside for hooking a digital antenna for local TV shows. Or attach external speakers to the 3.5 mm port for a louder sound. Wireless connectivity options are also present in this device.
Specs and features
This LG model provides true 1080p high-definition sharpness regardless of the compact size. It has two aspect ratio options: 16:9 and 4:3, for a versatile widescreen experience. The DLP chip technology and 100,000:1 contrast ratio altogether bring a lifelike image on a 100-inch screen.
The LG PF50KA features whopping 600 lumens. Of course, these parameters may not be sufficient for reproducing a razor-crisp image in a bright room. Yet, this is more than enough for dark environments and the moderately-sized image. Moreover, the powerful LED lamp will last up to 30,000 hours, sparing you from the headache of frequent lamp replacement.
Smart TV is a pleasant bonus in this projector. Thus, you can browse the library of apps available for download and use ones for streaming premium content. For example, you can use Netflix, Hulu, YouTube, and UFC.TV, and more, or access to other apps from a built-in browser. Moreover, you are free to stream content wirelessly from DLNA and Miracast supporting devices.
Two 1W + 1W speakers build a stereo system. However, they can not be satisfying in terms of output power, so you can hook a sound bar or other speakers. The option of pairing the projector with wireless speakers is also available.
Projection and picture quality
I am impressed with the dynamic contrast, vivid colors, and correct tones LG PF50KA reproduces. Brightness is also on the good side of this projector model. Even in low-light settings in a room with ambient light, the image is still good enough. Yet, the picture is not that great when the sun's rays go directly into the screen, though pretty much watchable. So, a well-lit room is not an optimal environment for PF50KA. Instead, you should consider a completely dark room to get the utmost viewing experience.
Videos in 720p resolution are slightly out of focus and tend to be blurred. On the other hand, 1080p content is clear and crisp. Distant objects are easy to see, and textures are well-pronounced.
Installation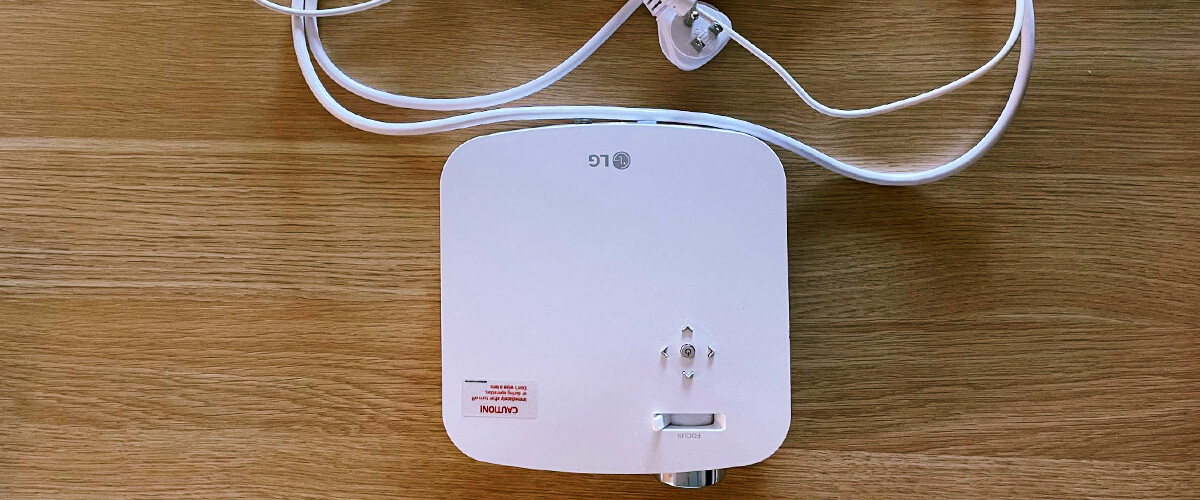 As you place the LG PF50KA projector in the desired spot and turn it on, you will have to adjust the focus and keystone settings. In case the image is blurry, the focus will fix that. Zoom is fixed, so there is nothing you can do to increase or decrease the image size but to move the device physically. There is only vertical keystone correction, though it works automatically by default. You can turn it off if you do not want to use this feature.
The maximum image size you will obtain with this projector is 100 inches. The throw ratio is optimal – 1.4. Based on LG PF50KA specifications, you've got to place PF50KA at a distance of 4.1 feet for a 40-inch picture.
Key specs
Display technology: DLP.
Resolution, px: 1920×1080.
Brightness, lumens: 1440.
Contrast: 100000:1.
Throw distance, ft: 4.1.
Image size, inch.: 25-100.
Wi-Fi: yes.
Built-in speaker: yes.