As you look through the specs, you will immediately understand that Optoma GT5600 is a high-definition projector that will transform your entertaining experience. It has a lot to offer its future owners, and it also deserves my attention. In my Optoma GT5600 review, I went over this projector's main features, pros, and cons, so you know if it's right for you.
Build quality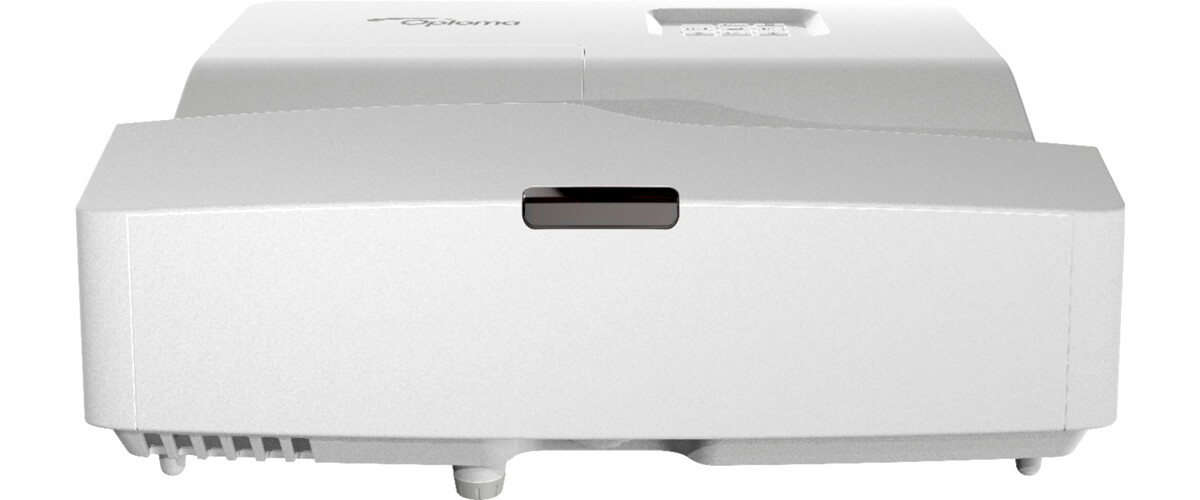 High-end projectors are not lightweight. That's because they incorporate technology and components that are not available in more affordable models. Optoma GT5600 is not an exception. This device is on the heavier side, making 8.6 lbs and being 13.5 x 15.08 x 4.41 inches. Yet, it will easily fit into the top of your TV shelf.
The projector's body is sturdy and well-made. It has a curved form, which adds to the unique look of the device. There are two HDMI inputs with 3D support, one VGA, a composite video, and Audio 3.5mm ports. You will also find two USB-As as well as RS232 and RJ45 controls.
Specs and features
This ultra short-throw DLP projector supports 1080p Full HD (1920×1080) resolution, not 4K. For most people, 1080p is more than enough for a pleasant movie night or gaming. It also supports 16:9 and 4:3 aspect ratios, though its native one is 16:9. 3D compatibility is another bonus of this model. Just hook up the projector to any 3D source like a 3D Blu-ray player, 3D broadcasting, or games console. Voila! It's done!
If you appreciate rich colors and dynamic videos, you will undoubtedly like Optoma GT5600. Its 20,000:1 contrast ratio and 3600 lumens of brightness will overcome ambient light. But remember, this is a lamp projector, so the light source's lifespan is not that long. For example, you will get 4,000 hours of operation in Bright, 12,000 hours in Dynamic, 10,000 in Eco, and 15,000 in Eco+ modes.
Among the Optoma GT5600 specifications, the ultra-short-throw capability is a crucial parameter for your consideration. Thanks to this, this projector is suitable for placement in small rooms, right under the screen.
The built-in 16W speaker is a disappointment. So, you may want to connect the projector to a sound system to truly enjoy the gaming or watching experience. Personally, that's what I would do.
You may use USB display screen mirroring to supersize your Android and iOS content. Or you can get an optional HDCast Pro connectivity for wireless broadcasting.
Projection and picture quality
Let me say at the outset that this is not the sort of projector you will use out of the box. Even with my experience, it took me quite a while to adjust the colors and brightness correctly before I reached the desired result. And I was not disappointed. The colors were vivid, the whites were bright, and the blacks were deep. I should mention that I had no problem using this projector in a well-lit room. The image was just fine. Although I must admit, it depends on the type of screen, and in some cases, I do not exclude that the image will be a little blurry.
Installation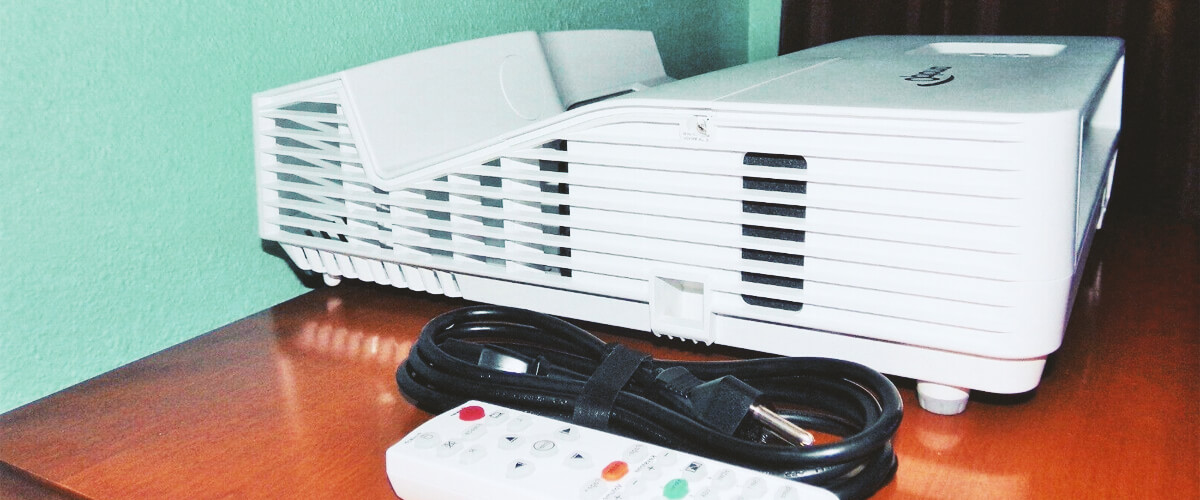 Optoma GT5600 won't bother you with hours of setup. With keystones in both the vertical and horizontal planes, you will achieve an image that is properly centered from all sides. This can be handy when the device is placed at an awkward angle. It doesn't have a zoom but comes with a 118% offset. Lens shift is unavailable as well.
With a 0.25:1 throw ratio, Optoma GT5600 features the capability to produce an 80 – 100-inch image at a distance of 6-9 inches.
Key specs
Display technology: DLP.
Resolution, px: 1920×1080.
Brightness, lumens: 3600.
Contrast: 20000:1.
Throw distance, ft: 4.4-16.9.
Image size, inch.: 80-100.
Wi-Fi: no.
Built-in speaker: yes.